our tasting notes
here are our impressions...
the tasting notes from the 1th Speyburn Tasting
Douglas Laing Provenance 10y 01/2007 - 02/2017 46%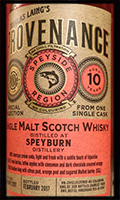 Nose: Subtly the Speyburn pear, but also oak and creamy somehow, peach cream, creamy, vanilla, pear, yeast, vanilla, light alcohol, white chocolate with crisp, white balsamic.
Mouth: pear and oak, slightly bitter, on the palate, very distinct. It is fine. Pear, vanilla, spicy oak, sweet, delicious. Spicy, vanilla, lovely long finish, tannins, spicy. It pushes on enormously with horny pepper and stays quite long.
Conclusion: Colour lousy, nose promising, taste satisfying, finish nice
Douglas McGibbon Clan Danny 8y Sept. 2008 - Aug. 2017 DMG 12068 48%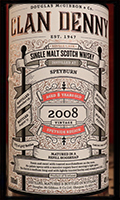 Nose: not fruity, lots of doughy oak, the pear is more subtle and more sourdough and vanilla, thought at first of ice cream, in a croissant, in summer, but the vanilla faded quickly, and the sourdough dominates. How do they get that vanilla and pear combination in there? Unbelievable. A bit of unripe green apples, reminiscent of fresh rhubarb with sugar, the sourdough tickles the nose pleasantly, a touch more oily than number 1.
Mouth: this is more peppery than number 1, a completely different number on the palate. It's salty! Vanilla, buttery, salty and much more powerful, the only 2% more pushes it. Oak is more evident on the palate at the start, and the pear is not so sweet. The mid-palate is bursting with vanilla, and then comes some pepper and the oak. Wonderful salted wood note in the finish.
Conclusion: The Denny comes across as totally unspectacular and meaningless. If you give it the opportunity and listen to it, it reveals fundamental qualities.
Douglas Laing Old Malt Cask 11y 50 % Aug. 1993 - Oct. 2004 DL REF 1001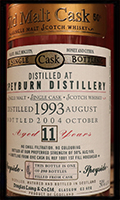 Nose: Honeydew melon with a hint of mint, woodruff. I wouldn't recognise THAT as Speyburn from the nose. A bit musty cellar in summer.
Mouth: Wrigley's spearmint, spice, not quite typical Speyburn. Soft on the palate - blind like 40% or 43%, but then it slides screaming down the throat. Sweet oak. This sweet vanilla hits you totally off guard after the spicy herbal nose. Where now there's only less in the glass, a pear note comes through, and it gets fruitier, greasily oily in the glass, long streaks, and yes, the longer, the fruitier. Wonderfully old-school.
Conclusion: Old Malt Cask - simply mega good. A surprise whisky that starts with mint and ends with Speyburn. I found it totally interesting and super!
Original Bottling 25y Solera 46 % ID 768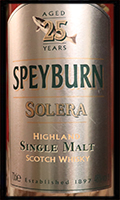 Nose: pine forest or sauna infusion, mint is found again, a real WINNER as far as the nose is concerned. Tonight is the hottest in the glass. Earthy? Yes. With the dry spiciness of autumn leaves.
Mouth: oily in the glass, buttery soft, nice juicy honeydew melon only the Cerano is missing now. Some raspberry and cherry. It was still a little stiff in places on the nose - it is smooth and gentle on the palate. Sweet, a delicate smoke, fruity, melon, and various herbs that I can't yet determine. Tarragon? And lovage. With water, it becomes fruitier - distinct peach notes and sweeter. The finish is long and powerful. Now it smells like a bag of baking powder and vanilla biscuits.
Conclusion: I didn't remember the Solera in the newer version as being as good as the old version. The Old Malt Cask was excellent; this one is better. A real grenade that gets sharper with water. Definitely the winner of the evening. But the real conclusion is, what a great evening with a couple of crazy people at the virtual table who get along great and have planned a crazy programme. It was agreed that when a few people get together again, it has to be done again.