our tasting notes
here are our impressions...
the tasting notes from the 8th Speyburn Tasting
Original Bottling, 10y, bottled 2011, 40%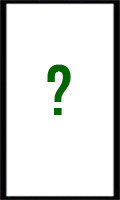 Nose: snice fruity pear and other fruit compotes, with gentle acidity, very soft sherry note, pear-apple-vanilla pudding with some crème brûlée.
Mouth: slightly smoky note with pear, mild, oak, drinkable, light pepper note, much better than the current 10y, oily in the glass, like elderberry syrup at the end.
Conclusion: everything was better then, and Callaman makes excellent line-ups.
Mc Gibbons Provenance, 8y, Autum Destillation2004, bottled Winter 2013, 46%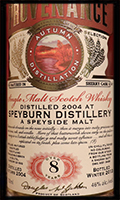 Nose: fatty pear, fermented other fruits, dough, tart, overripe Mirabelle or kiwi. Callaman is really a line-up god. Caramel and bourbon cask still come through clearly. And deep inhalation herbs still come through, very intense.
Mouth: some leather, a hint of salt, forest honey, very complex for an 8y. Intense, vanilla, herbs, tartly dry but heavily horny. Herbal sweets from the Christmas market, that's what it boils down to in the end.
Conclusion: an 8-year-old whisky that can really do a lot. Unbelievable, we got the last bottle of it. Thank you Callaman, that was unbelievably cool stuff.
88.12 SMWS "Salmon in a rabbit hutch" Ex- Bourbon Cask, 54 %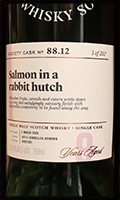 Nose: very tightly woven, lemon, vanilla, plum? Mint, pine, bourbon. Tart herbs, slightly singed cable and in addition brine and something of that chewing gum "Fruity Juice".
Mouth: tart olive oil, very intense. One of these as a cask, then that would be ours! First, very soft and liqueur-like. Then a load of pepper - with a bit of water clearly more vanilla, sweeter, becomes really cool, drinkable, strong. Warm puff pastry with black caraway seeds
Conclusion: the best thing SMWS has released so far is under the number 88 as modern times are concerned.
88.13 SMWS "Nettle Cordial" Refill Bourbon Barrel, 54,4%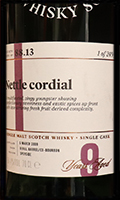 Nose:nettle soft drinks, nettle liqueur? Braised plastic, Xaver thinks, a hint of turpentine, though.
Mouth: noticeably sweeter and not as tart. A little cleaner and more precise than its predecessor. Lots of green apple with fully unripe pear, boozy, again a hammer!
Conclusion: BIO is LECK, if you know what I mean, in nose and mouth great Bourbon Cask. Perfect and to the point!
more notes
here