our tasting notes
here are our impressions...
the tasting notes from the 27th Speyburn Tasting
MacArthur´s 40%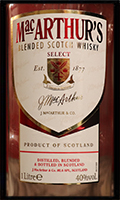 Nose: Pear, vanilla, mild, sweet, grain, yeast, honey, apricot/peach from the can, first stabbing alcohol, then immediately pear, unmistakably and oak, then pear turn into apricot. And also a slightly fermented fragrance that lies above everything. Not unpleasant, like fermenting, sweet wine. The initial drought disappears. You can already smell in the nose that it is a blend. But a good one. It's not as "full" as a single malt, but also not thin, as you would otherwise expect in this price range. He gets a little mint over time. With water, it becomes a Kölsch, so we do without water.
Mouth: If it wasn't clear until now ... NOW it's Speyburn Pear with white pepper. Very soft in the mouth, mild, if you hold it on the tongue for a long time, it gets pepper, vanilla, pear and a sticky sweetness remains, a little bitter, at least at the back, vanilla, pear, honey, pineapple. And complex and dangerous to drink. The mixture of pear, pepper and wood really makes us think of the current 10y. Memories of the Hopkins Reserve are also awakened.
The finish is felt to be unusually long, slightly dry and very, very tasty.
Conclusion: It is terribly tasty, light drunkenness at a sensational price-performance ratio. It even has a delicious aftertaste for such an inexpensive blend.
Easy girl, but still waters are sweet! Great action, great blend!
Hankey Bannister - Original 40%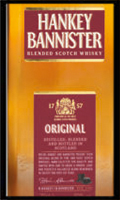 Nose:Not dissimilar to the first in the nose, just a little softer. Here, too, pear and apricot. The nose is FAR of the MacArthur. Thinner on the nose, pear, a bit tart than apricot, more like a bit of citrus. But not uncomfortable. Just thinner overall. There's something like eucalyptus or dish soap if you keep your nose clean for a long time. Slightly pungent on the nose, clearly pear. It's thinner, but we don't find any disturbing notes in the nose. His nose has something like wet newspaper, damp earth. Here you have the finest scotch in front of you. Nice sour, not quite so lovely oak, grain, dusty, slightly fruity. This is a blend that we think is good. Doesn't smell like young spirit, has a pleasant fruity note and a light touch of Bourbon Cask, plus buttery soft, easy-drinking whisky, very soft in the mouth, velvety. Nothing pokes at all. Pure pear compote. Toffee, pear, vanilla, oak, a bit bitter from the grain. It also has a bit of varnish on its nose. no grain, no pain
Mouth: It stings a little less than the MacArthur's. It is definitely more palatable than MacArthur's and even sweeter than MacArthur's. It's sweet and fruity on the palate. The nose does not suggest that. We imagine something woody and floury pear. Plus a lot of grain. You literally have the feeling of having the dust from the combined harvester in your mouth. The sweet aftertaste sticks to the palate. If you play it on all mucous membranes for a long time, it also has pepper, but only a little.
Conclusion:Easily accessible entry panel. Easy drinking. Bring a good portion of sweetness and pear compote.
Hankey Bannister - Heritage 46%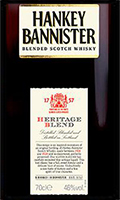 Nose:Closed in the nose. Lack, pear, snappy, not as lascivious as the other two. Yes, completely different nose. Significantly more depth. Now becomes fruity with pear and slightly doughy with a trace of grain. He saw sherry barrels. The light nut, green walnuts definitely has, a little more complex than the other two, so far the most interesting in today's tasting.
Mouth: Smoke in the mouth, the sweetness is not so dominant, but good, initially, it has something leathery, smoky on the palate and comes through very quickly in the finish, some leather, pear, smoke, dry wood, pepper. Leather on the palate, some smoke, a little pepper. Somehow a bit "dirty". Unfortunately, with its 46%, it looks a bit shaky.
The finish is pepper, dry sherry and smoke. A little bit tart, grapefruit. That's my favourite tonight! On the palate, the very light smoke, in the mouth a bit sweet, some fruit, nice blend!
Conclusion: With a touch less sweetness and a portion of smoke, the Heritage clearly stands out today. A blend of smoke and sweetness that we would never have drunk if we weren't the Speyburn Clan.
more notes
here