our tasting notes
here are our impressions...
the tasting notes from the 36th Speyburn Tasting
Original Bottling 10y 46%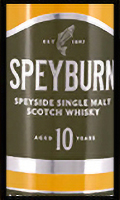 Nose: OBF, herbs, cough syrup, sweetish vanilla, an OBF monster, some citrus, mint, vanilla and some solvent, a bit waxy. We like the nose a lot! Anything but ordinary. Fine pear spirit, with canned peaches, a touch of lovage and the whole thing captured by a gentle OBF.
Mouth: pleasant sweetness, slightly dry, fine herbs, mint, sage, red apple, which is somehow more voluminous than today's 10y, evident pepper on the back, white sugar, remnants of vanilla pudding, a few candy apples (paradise apples) The, more lightly burnt caramel than vanilla, is a lovely, honest and delicious malt for such an autumn evening. So in terms of taste, it is a lovely one—sufficiently complex, very balanced and flattering, vanilla pudding with caramel, prunes, dried apricots.
Conclusion: A solid standard. OBF with more promise in the nose than in the taste. The old 10y Speyburns are always a guarantee for beautiful goods. Overall good.
Mackillop's Choice 18y 48.1%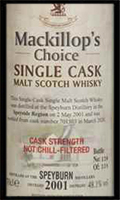 Nose: bunch of grapes, lightly smoked bacon chips lie on top. Menthol/mint and quite a bit of pressure on the kettle, grapes and slightly aggressive, alcoholic tips, medicinal and hints of a young but mild Laphroaig. Camphor, methanol, the dram bucks! Fresh, a little buttery, sweetish fresh dough, butterscotch/fudge, it is a little bit sour, Walkers, white wine, vanilla sugar - tasty on the nose, if it stands longer, it seems acidic, a minor mineral in the background.
Mouth: sweet, fruity, but then directly the alcohol that washes away everything else. Sweet, plastic, peppery, it's snappy, but it still tastes like pear now. It is sugar-sweet in taste and has an annoying plastic note, plus plenty of pepper in the finish. Tastes young and wild, but we still think it's ok. It's a shame that after 18y, there is something left over. With water and plenty of it, it becomes a little more balanced. Overall, however, out of round. With more water, it becomes soapy, followed by the vanilla. Over time it becomes tangy, then woody and dry, a bit metallic like licking wet steel.
Conclusion: It was not good. And way too expensive when it costs almost £ 130. No, we don't have to have more of it.
more notes
here