our tasting notes
here are our impressions...
the tasting notes from the 53th Speyburn Tasting
Original bottling for Glenfahrn 15th Anniversary, 11y, 61%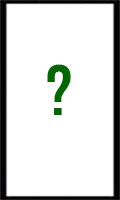 Nose: Vanilla and Hubba Bubba bubble gum, really sweet start. But also a burnt note. Intense bourbon cask, marzipan and not pungent despite its percentage. It only becomes aggressive with the addition of water.
Mouth: Very strong, but not brutal for 61%. Tart, then vanilla, goes down nicely and warmly and then the 61% hits quite quickly.
Conclusion: "The Death Star" among the Speyburns. Water makes it extremely aggressive', both in the nose and in the taste. Pure, this is a beautiful malt made from a strong bourbon cask.
Original Abfüllung 10y, 43%, bottled for Barton Imp. Chicago USA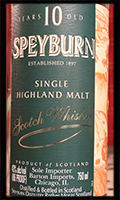 Nose: Cake batter, waxy, some draft smoke, herbs, dried apricot, plum, vanilla
Mouth: the distillery character of the old 10s, a bit OBF, pepper tobacco, spicy, tasty. Corpse sweetness, but also pepper. Vanilla and possibly a bit of sherry
Conclusion: As always, none of Speyburn's older 10s disappoints
The Refiners (Feingeist) Speyburn 9y, 2011-2020 55.4% Sauternes Cask finish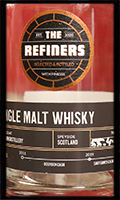 Nose: sour, colorful pepper mixture, barrel wood, slightly perfumed. The latter is probably this "Sauterne note". Finally: apple cider vinegar.
Mouth: sweet start, followed by acidity, a wine note. Thick texture, mead character. Sweetness and spiciness dominate, with some barrel smoke added.
Conclusion:Do not add water. With water it becomes almost unbearably sweet. Quote: "You got caries from drinking."
more notes
here