our tasting notes
here are our impressions...
the tasting notes from the 4th Speyburn Tasting
Bradan Orach 40% Version 2018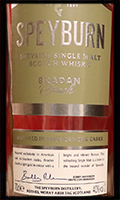 Nose: sticky peach, pear, vanilla mango and kiwi, nice grassy note, light smoke and pear compote in the background.
Mouth: fierce caramel, pepper, the finish is short and tasty.
Conclusion: Tasty "on the side" whisky. For concerts or campfire.
Hopkins Reserve 46%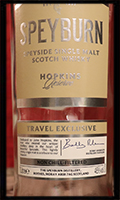 Nose: like the Bradan Orach squared, the thin flag of smoke, a little more oak, nice vanilla share, not so sweet. The nose seems "cleaner". Less acidity, unmistakably Speyburn. Again some sourdough, but "lighter", clearly vanilla and pear. Very balanced and tasty. The label says A gentle smoky dram, with hints of zesty, citrus fruits, sweet honey, butterscotch and vanilla all wrapped together with a slight spicy note. You can sign it like that.
Mouth: after the sip, there is a charming citrus note paired with smoke, fat, vanilla, proper barrel influence, a little lemony, nice wood. In the aftertaste, pleasant and dry.
Conclusion: well drinkable
Original Bottling 10y Version 2018 40%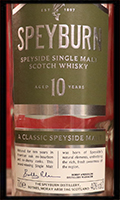 Nose: canned peaches, sherry.
Mouth: this is something WHOLE different from the two before. More depth, fat and very smooth. Delicious! The finish is also excellent. Quite long, some liquorice and not as dry as the Bradan Orach. And some pepper.
Conclusion: The difference to the Bradan Orach is really huge. Slightly smoky dry oak in the aftertaste.
Douglas Laing Old Particular 15y 48,4%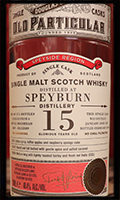 Nose: thick yellow fruits. Wrigley Gum Fruity Juice, mint herbs, lemon, sweet honey. White wine note. Speyburn says: Nose: Golden syrup, toffee apples and rasperrys sponge cask. Sponge? Yes!
Mouth: sweet start. The Speyburn pear mixed with caramel, spice. Speyburn says: Round and full bodies with gentle spice and salted caramel. Salted caramel? But YES! 100%! Tart, dry, dark chocolate and a little orange with a pinch of cinnamon at the back.

Whisky Chamber Port Octave Cask 21.12.2005 - 11.09.2017 58,3%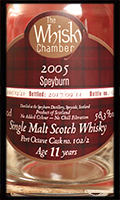 Nose: classic port nose on white oak! Cold fire in the smokey, red fruits, spicy and evident port impact, thick red berries with sugar and sugar. Mutates more and more into a candy stick in the nose.
Mouth: too sticky for me, with a bit of water, it turns into cherry juice! Suddenly delicious. Pleasant woody taste now. Smoke and sweet and hefty alcohol percentages, cherry juice.
Conclusion: It could be another distillery. This one has nothing to do with Speyburn anymore. Too much port suppresses the Speyburn character. The distillery character is almost gone. But a cool, a very excellent whisky by all means.
more notes
here