our tasting notes
here are our impressions...
the tasting notes from the 5th Speyburn Tasting
Original Bottling Special Edition 100th Years Celebration (1897-1997) Decanter 40%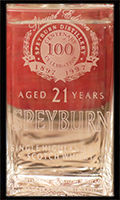 Nose: Nose: slightly fermented start, sour grapes, old bottle flavour, then fruity, nectarine, orange, ripe banana, filigree, wet rag, somewhere in between lies the truth. It smells like a "Nimm 2". We can agree on that.
Mouth: malty barley dust, wheat field in full sun. For only 40%, it tingles nicely on the tongue and palate. It flattens out briefly on the mid-palate and then comes pepper with oak spice. A soft starter. Well-chosen by Callaman. Not so fruity, relatively dry, tasty barrel impact, malty, pleasant tannins. Once you've taken a little sip and chewed on it, you'll find that minty note too. And a little mustiness. This slight mint note is also a piece of "Speyburn home" for me.Aftertaste: the wood bites again, white pepper, first tightens the mucous membranes, then finalises with proper salivation.
Conclusion: Good Whisky.
Gordon & MacPhail 29y 1977 - 2006 43%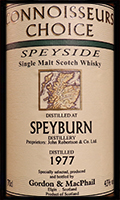 Nose: better and more intense than the first. Tangy fruit and herbs, very slight hints of passion fruit, sage, mint.
Mouth: Powerfully warming, dry as dust and yet mighty. Herb garden, and we agree: a very dry representative - but deliciously dry. The herbs dominate on the palate, hardly any fruit. 43% and so powerful.
Conclusion: old, beautiful, powerful stuff.
Original Bottling Single Cask 263 52,5%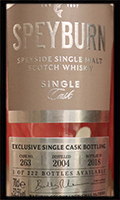 Nose: Athick vanilla, waxy, lemon ice cream. Compote of bright, sweet, fully ripe fruits. Becomes sweeter and sweeter. Light solvents, lots of vanilla, some butterscotch and marshmallows plus peach and light Williams pear, some leather, cold mint tea. Full variety. The 3rd whisky today, and still the distillery character, was not so pronounced.
Mouth: delicious, a super bourbon cask, exceptionally soft, fruity. Not recognisable as Speyburn, one of the best bourbon casks. Starts soft with vanilla, and soft fruit turns peppery with more pungent bourbon notes. Marzipan, some chocolate, a hint of lavender. Vanilla-pear compote, smooth, drinkable.
Conclusion: This is how I want whisky. It really knocks our socks off. Very cool whisky.
Original Bottling for La Maison du Whisky, Cask 280, 2004-2018 52,5%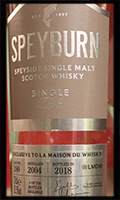 Nose: stunning, at least as good as the predecessor. A little more herbal than Cask 263, more subtle as far as the bourbon notes are concerned, sage, mint, vanilla, some liquorice, sawdust, light slightly acidic grapes, floral - and still something like dried varnish.
Mouth:you don't notice the %, but lovely tart oak. Acidic fruit start. Excellent, pleasant drinking strength. A little water makes this extraordinarily drinkable and boozy.
Conclusion: So far, only winning stuff today and still not a TYPICAL Speyburn, honey, sweet vanilla, peach.
Original Bottling for Boomsma, Cask 218, 52,5%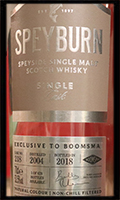 Nose: Herbs, leather, sultanas, nuts, frying fat, Xaver says, a little turpentine, yes, it has something dirty. Something dirty and horny. Fairground! Sticky sweetness, candy floss, candy apples, roasted almonds. The nose is sharper than the bourbon daughters.
Mouth: It has a nice punch; this is dream stuff. Dirty, you can already see that in the glass. Rough. Herbs and raspberry syrup. Pepper Chips. No need for water; it's incredible the way it is. Fresh Sherry meets White Oak. Aftertaste: Has a nice finish of dry, old leather. Brutal, yes, but still somehow dignified. Very sovereign! Blackberry jelly, honey, dried fruit. Toasted aromas that suddenly appear in the nose when drinking.
Conclusion: No cheap finish; this one was also an excellent cask.
Original Bottling Cask 1860 1977 - 1999 63,6 %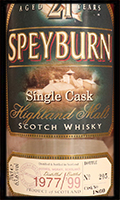 Nose: Fruit cocktail, fruit bomb. Herbal schnapps, camomile, mint, sage, rough oak, tingles in the nose, grassy, hay and subtle fruit notes and some cowshed and maize silage. After a few minutes in the glass, this fermented sourness disappears somewhat and becomes fruitier, softer. Fruit bomb meets haylage. With water: clearly more yellow fruit.
Mouth: tingles a little on the tongue. Outstanding ancient bourbon cask, old bottle flavour in pure culture, oak, smoke, vanilla. A board! Wild honey.
Conclusion: Whether with or without water, it can do both very well..
more notes
here