our tasting notes
here are our impressions...
the tasting notes from the 6th Speyburn Tasting
Original Bottling 10y 40% US Import, no Bottlecode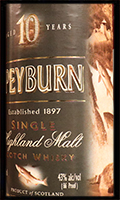 Nose: Banana, vanilla, malt. Summery light, yet with depth, caramel and camphor.
Mouth: Has something of "old". Soft, round, tastes more like sherry than nowadays. Nutty aroma. Slightly soapy but horny. Old, nice OBF, somehow reminiscent of some Old Map Label bottlings, apricots and some bitter oranges, canned solid peaches, the palate also shows the last time, strong OBF, plenty of fruit sweetness. But the sweetness is immediately hijacked by a very lovely bitterness. A hint of smoke.
Conclusion: a very excellent, old representative of its kind, quite great stuff, with obviously higher sherry content at that time. The best 10y OB from Speyburn we've had so far.
Original Bottling 1Liter Bottle (black Label) 43%, L85 m Bottlecode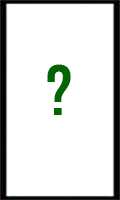 Nose: Clearly weaker than the predecessor, but still good. Maritime. Grassy. Citrus and grass - we all agreed on that. Some wood to it. Coniferous wood, which does not smell intense. Very clear, with a slightly acidic fruitiness of unripe apples with some pear and vanilla. Xaver said, "like sauna infusion", but we know it's his feet in the boots.
Mouth: very soft 43%. Like ice cream in a cone. Cardboard and a bit bitter, on the one hand, pine and pear on the other. We agree again: yes. Definitely some wet/damp cardboard. Makes the tongue furry.
Conclusion: It can't get past the predecessor, definitely not. In the diffuse reverberation, fruit and bitterness, but nothing really tangible.
Original Bottling Traveller Retail 2018 46%, Bottlecode 110370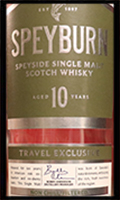 Nose: A quantum leap. That's shocking, after the predecessors. This is what Speyburn smells like today. Musty fruitiness with some ground pepper and lots of pears, some lime in the background leather grease!
Mouth: Marshmallows and maple syrup. Pastry, quaffable soft, lots of pears, butter biscuit with alcohol. Slightly fermented, the fruit, but otherwise, just Speyburn 10 with a bit more %.
Conclusion: The 46% gives a bit more depth, but you can't taste the alcohol. Green wine doves still, but then that's it.
C&S Dram Collection 9y 14.1.2009.- 19.2.2018 57,9%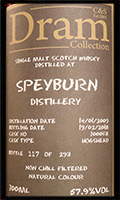 Nose: The alcohol hits right through. Wow, you're not used to that after the previous drinking strengths. Lots of toffee, then spicy and herbal. Orange, white wine, elderberry, walnut, some pepper. Well, this one really bites into the nasal mucosa. A pit bull in a glass. That is really THE description for the nose. The colour doesn't match the nose. It smells "darker". Peppery on the nose, with fat. In the sense of buttery barrel wall. That's it.
Mouth: honeydew melon and look! It's a bit salty. Delightful! When the toffee fades, it gets a bit salty. With water, the salty note comes out even better. Now, also more oily on the tongue, and it's slowly turning into the fierce Brett it already was as a 7y.
Conclusion: what a heavy board
Edition Spirits 12y Sherry Butt 326 btl. 2005 - 2018 56.2%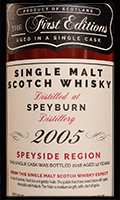 Nose: SMint, says Xaver, a little leather, something like coconut oil, a real throat cleaner and obscenely sweet! That'll do. With water: The nose is sharper
Mouth: , a fierce sweetness sticks to the palate. The only thing that speaks for sherry here is this overpowering sweetness, as one often has with re-re-fill sherry casks. With a bit of time in the glass, clearly honey, berries.
Conclusion: a real throat cleaner and obscenely sweet!
more notes
here