our tasting notes
here are our impressions...
the tasting notes from the 9th Speyburn Tasting
Gordon & Macphail 27y 1974 - 2001 Connoisseurs Choice 40%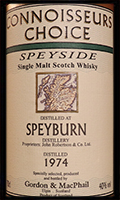 Nose: sour bread dough I find, fat pear and wet cereals, tannic acid, deodorant, artificial freshness, rich on the nose, that's right.
Mouth: little lingering in the mouth. Dry fruit, thin, must, hay, drinks oak with fruit juice tang, a bit scratchy then something slightly metallic remains in the finish. Old school, malty, herbal, vanilla, relatively light.
Conclusion: good for an opener, a bit strange for such old stuff.
Gordon & Macphail 1971 - 1994 Old Map Label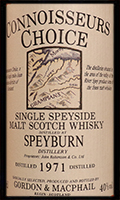 Nose: : wet rag, hay, mint, light scent of pear, powerful OBF, sherry, some wax, apricots, old card room, spices and gravy.
Mouth: acidic, musty, biting, vanilla, OBF. Very soft, Maggi, soup stock cubes, oriental spices, Mizunara.
Conclusion: the first two are midfield, the second was better
Gordon & Macphail 1977 – 2007 Map Label Connoisseurs Choice 43%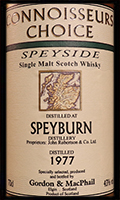 Nose: : THE scent is good. Old Bottle flavour without end, old, musty, pull through the nose, wax, old books, honey, herbs. Very mature and set.
Mouth: dust-dry sherry, fruity, definitely the front-runner so far, way ahead. 30-year-old stuff, from 1977, we reminisce. Dry oak attack. Dry fruit, bright fruit at first, gets waxier with time. Herbal. With time, one can sense yellow and darker fruits. The clan swims on the same wavelength with this one. The re-(re)-fill butt plays out its qualities nicely in the 30yo. Sweetish at first and then turns dry. The cheeky grapefruit comes through at the end - and coffee.
Conclusion: The whisky makes us rummage in old boxes in the cellar. Memories! Fantastic stuff and a lovely journey through time. We are looking forward to the 2019 clan meeting.
Original Bottling OB 1978-1999 21yo 60.1% Single Cask 2866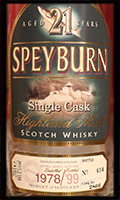 Nose:We all agree. What a fat, rich nose. Old, wet leather, sherry, maggie, oak, charming, grape. Passion fruit juice, caramel, top !!!
Mouth: Dark berries, sherry bomb, eucalyptus note with charred barrel wall, plums, bacon from the pan. It has bite - but not like 60.1%. It overtakes its predecessor at idle speed - we are all totally thrilled!!! With a few drops of water comes a full cherry aroma. Leathery, oily, perversely cool. With water and a little time, this is one to think about quietly by the fire. An end horny Speyburn. This excellent oily mouthfeel. Still fruity and fresh.
Conclusion: Long oily finish. Liquid chocolate with cherry and a hint of smoke. The clan will soon get a flag. That's what it looks like!
Signatory Vintage 26y 1980-2006 61.3%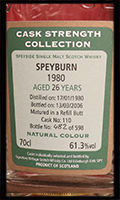 Nose: now there is natural Speyburn pear in the nose !!! And freshly sawn metal, says Xaver. It's hard on the nose. It has strong parallels in the nose to today's 8y, 9y from various independent bottlers. Cake dough, pear, somehow not at all like you imagined 26 years. A deep inhalation is incredible. Coconut, floor wax and wood, candied lemon peel, candied orange peel, dough.
Mouth: pear, pear and more pear. What a dense taste! Fat as a pig. Pear-vanilla-honey liqueur. 26y you wouldn't believe. 61.3% either. So soft. Salty pear, and there's such a coconut grease on the palate. Salted pear with white pepper.
Conclusion: What a killer; this was not to be expected. This is a sniper. It stays calm, aims and hits. Everything is said with this sentence.
Fleischmann´s prefered blended Whisky 90Proof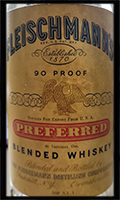 Nose: soft, sherry and old bourbon, like old wild turkey, spices, vanilla, corn-spirit.
Mouth: like this cola bottle of Haribo, very soft and somehow liquid in the taste, I really thought...what a hard time this will have....but after the story.....it has it relatively easy I am in love. Haribo liquorice in the finish. Haribo bats. Wings made of fruit gum and body made of liquorice.
Conclusion: Not only fine ribs but also heart is our tartan!
more notes
here