our tasting notes
here are our impressions...
the tasting notes from the 10th Speyburn Tasting
Berry Bros. 8y 2008-2017 46% Cask 701703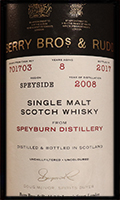 Nose: unround, pear fermenting bread dough, white mulled wine, green grapes, vanilla, a typical nose of the young Speyburns of today.
Mouth: dry in the mouth, lots of oak, getting drier. The palate is green and like a very light dry white wine with a dash of pepper, tart green banana. Other opinions: Surprisingly thick it runs in, sweetish, biscuit dough, pear, very light citrus notes, some pepper. Aftertaste: medium, here too the dough, and it leaves a hint of biting into a lemon.
Conclusion: a no must have whisky
Original Bottling 2004-2018 52.5% Cask 258 for Switzerland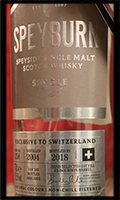 Nose: wax, thick vanilla, pepper, sweet, cereal? Coconut. Definitely. Very friendly, clear and straight nose without being inconsequential.
Mouth: a bourbon cask bomb, fruity, vanilla, with oak, Mirabelle, with grated coconut, some plum too. Creamy on the palate. With a bit of water, it becomes delightful - a chameleon. Creamy on the palate, slightly buttery oak, spices with a greeting from the Orient, gently tingling pepper, candy floss, marshmallows and vanilla pudding, plus a bit of white chocolate. Aftertaste – sticky
Conclusion: so a sweet thing, a dessert
Original Bottling 2004-2018 52.5% Cask 244 for Switzerland
Nose: Leather, wet cherry-flavoured pipe tobacco, blueberries, sherry, oil, chocolate, polish, leather, tobacco, freshly painted colour. It easily tops its predecessor, and THAT was already great. A basket full of cherries, some already burst open, chocolate is being conched next door, a little rum is also involved, sanbitter and some orange juice, a few dates and a sliced prune, underneath are some linseed oil and brush cleaner, Em-eukal cough sweets.
Mouth: sherry, wood, oak, sultanas, roasted nuts, a cooling note. It has something of Wick candy with sour cherry, buttery like liqueur, oily, water, a sweet cherry broth with whisky, horny with chocolate over it. Plum jam, mega stuff!!! At the second sip, orange and cinnamon.
Conclusion: We should stop right now. This is a front-runner and will remain so. Hammer stuff!!
Original Bottling 2004-2018 52.5% Cask 250 for Nordic Travel Retail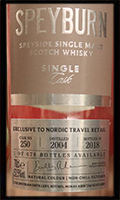 Nose:Damn, fantastic too! Sweet figs, dates, furniture polish, but not as much varnish and paint as before. Nose conclusion: solvent, we are at the cobbler's workshop, a thought of grain comes up. The label says malt whisky, and now even under the sherry, there is a hint of malt and grain. Cherry again, and I imagine I smell a fully ripe pear.
Mouth: Tobacco, a little sweet cough syrup, wick cherry candy again, that's the same cask, isn't it? What cool stuff from SPEYBURN !!! It's already very mild on the palate; in the middle part, it reduces a bit and briefly gets a slightly alcoholic note. Then it catches itself, builds up many volumes, gets very light smoked oak notes, and overall seems heavier and more set than cask 244.
Conclusion:Excellent nose, similar to its predecessor, only a bit softer to cask 244.
Original Bottling 2006-2018 52.5% Cask 003 for LMDW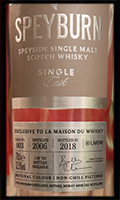 Nose: sherry, leather, sultanas, tobacco, plum jam, not quite as dark fruity, but a fat caramel baked in sherry note and some chlorine and nutmeg.
Mouth: Dates, something burnt, oloroso sherry sweetness, sugared berries, one says Haribo Cola bottle. It's got boom and peppery goodness. The rubber is clearly noticeable but is immediately capped by dried and berry fruits. Then salted caramels slowly work their way to the front, along with salted peanuts with a caramel coating. With water, it gets heavy fire in the form of spice. Conclusion: This could have been a port cask, slightly berry this time, a slight hint of rubber. Of course, the cherry plays a leading role here too, but no solo part like in Cask 244. Dried apricots, lots of sweet sherry extract and a funny note of chlorine.
more notes
here