our tasting notes
here are our impressions...
the tasting notes from the 11th Speyburn Tasting
Cadenhead 10y 46% 2008 - 2018 Small Batch Bourbon Cask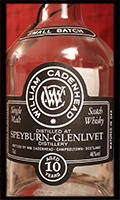 Nose: Sourdough, then caramel, lemon, whipped cream, pear with the sourdough. It doesn't quite make it yet. It starts almost where the other CAD left off. The Roadhouse Blues lifts the whole thing considerably. Possibly some lovely tangerine.
Mouth: charred plastic, nutty, melon, mango, a bit pappy, rather Speyburn atypical. Finish spicy wood, medium-long and somewhat metallic. the pear is missing.
Conclusion: Not a bad whisky, very decent drinking. But unworthy of a Speyburn.
Lord of Speyside 10y 52.7% Crimean Red Wine Finish
This is the first wine finish from Speyburn.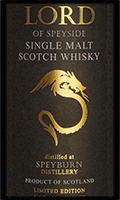 Nose: Pear, fruity, vanilla, wood, sherry, some ginger, more complex and heavier than the first. Plum jam and raspberry/strawberry. No wine sulphur and the cinnamon with the Armagnac herbal note is pleasant. A kind of magic. Grapes soaked in cognac, cognac bean, earthy, herbal sweets, heather, "almond sliver praline in dark chocolate", a delicate vanilla note in the background. The full range!!
Mouth: slight pepper spiciness, very clearly the wine finish, very mild and gentle for the 52.7%. Very sweet, cognac again, soft and peppery at the same time. Elderberry chocolate and roasted almonds and slightly smoky on the palate
Conclusion: long finish, dry, smoky, sweetly salty. Very nice."I could kill myself with this." The empty glass smells full of oak/cask wood, totally intense.
SMWS 88.16 "delicious decadent dessert" 9y 52,4%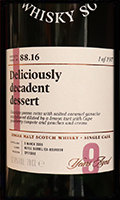 Nose: Cake batters lovely, horny sweet, vanilla beans, yeast dough, some smoke. Peach, peach is sunset. The peaches even go in the direction of those Haribo jelly peaches. Needs a lot of time in the glass. Sour cider, nutmeg, vanilla, cumin, quite dry, white balsamic, tinned pear juice, freshly sawn oak, gently acidic.
Mouth: Tinned pears or peaches. Rich, full, soft, butterscotch, caramac with oak chips. Cake batter with sultanas and chocolate shavings, vanilla bean. There is still a very interwoven herbal note. It's hard to pin down with water like a Hubba Bubba chewing gum.
Conclusion: The Name "delicious decadent dessert" is program.
SMWS 88.14 "Highland Yomp" 9y 53,8%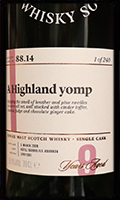 Nose: Waffle batter on the nose, like grandma, used to make. Some salt, candied lemon peel, rum aroma, vanilla crescents and custard. The cumin is firmly capped by the vanilla tide.
Mouth: soft in the mouth, gentle in the gullet, some wood, light smoke, vanilla. Flavour-wise, it's a hammer. It has such a lovely light raspberry note, again good vanilla and tasty oak. These SMWS bottlings are excellent! But the metallic is not young; it's more like an old coin.
Conclusion: Waffle batter, myriads of vanilla in all variations. From vanilla crescents to vanilla custard.
SMWS 88.15 "Sea salted caramel Sauce" 9y 55,4%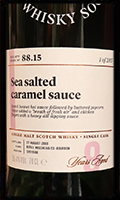 Nose: Fine smoke. Thick caramel and custard. Lemon and nicely creamy. Hefeweissbier. A vanilla-raspberry-wood bomb. The caraway also comes through more clearly here. Tart, minimal smokiness. Noble drops in a nut with raspberry spirit. Bread dough with pumpkin seeds; that's precisely the nose. Vanilla raspberry spirit with oak pepper and light smoke.
Mouth: very well balanced. With water, the wood, smoke and vanilla intensify really well. Slightly salty. But the majority of the clan finds the predecessors better - tastes just differ.
Conclusion: AAroma-wise, it can't hold a candle to 88.16 and 88.14. Borderline on the palate, the beautiful salted caramels prevent it from falling off.
more notes
here