our tasting notes
here are our impressions...
the tasting notes from the 12th Speyburn Tasting
Original Bottling 10y, only UK 40 % gebottled 2006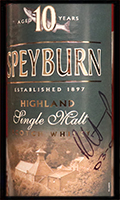 Nose: Herbal, fruity, mint, wax, some pepper. Gentle on the nose, candle.
Mouth: soft, creamy, very light pepper and lots of herbs, jelly on the palate, quince jelly with mirabelle plum juice. A real surprise and has nothing to do with the current 10y. This one is clearly hornier. Aftertaste: Smooth, creamy, a little white pepper, drinkable and simply superb. Apricot jam remains on the palate. It's pretty dry and astringent.
Conclusion: nice old 10y, made in 1996.
Original Bottling, 10y, Ribbon Tube, 40% gebottled 2002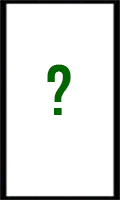 Nose: also mint, but the herbs are more intense. In addition, there is a more pronounced pear here. Vanilla, some solvent. At times a little doughy.
Mouth: Mouth: pear skin, herbal syrup, vanilla, some pepper and dry at the back. Why can't they do it like that anymore! Aftertaste: a little smoke, short overall.
Conclusion: The 2006 one was good; this one is better. Significant differences between the two 10y - incredibly fascinating. Same stuff, same distillery, same age and at second glance worlds apart.
Douglas Laing, Old Malt Cask, 1/1990 – 2/2000, 50%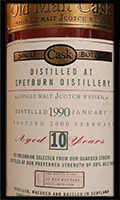 Nose: old, cardboard, cellar, a little pungent due to the 50%, musty, grapefruit, suppressed vanilla, limestone, plant stems, chlorophyll and fresh green twigs.
Mouth: some smoke, pepper, orange peel. This is a mix of unripe pears and juice of canned pears with this slightly metallic note. Much sweeter, somewhat tart, smoky, peppery, salty, smoky, very intense. Also, a 10y, but more pronounced in all respects. The 50% does it! With water is also fantastic.
Conclusion: long finish, dry, smoky, sweetly salty. Very nice.
Original Bottling 14y, exclusive to Tapei Whisky, Single Cask 247, 2004-2018, 52,5%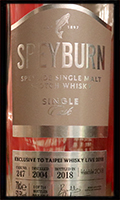 Nose: Sherry, cream, nutmeg, green banana, thick cherry charge, Amarena cherries - complete programme. Reminiscent of Christmas. Shoe polish, candle, hot cherries with rum for waffles. Plus, the typical white oak smell. Often you get this with 1st fill barrels.
Mouth: Amarena cherry, liquorice, speculoos, leather grease, tobacco. Some sour cucumber water, cinnamon, brachial, salt, cake spices. Reminiscent of warm spice cake. In the aftertaste, banana, wax, cherry, oak, full-bodied, some smoke, old workshop, old school, vanilla with honey, tart.
Conclusion: Would we recognise this as a Speyburn? No. The world doesn't know what it's missing.The sherry cask crushes the entire character of the distillery. Still, it's great stuff. Outstandingly cool.
SMWS 88.8 "mushy strawberries" 13y, 01.1989 - 10/2002, 60,7%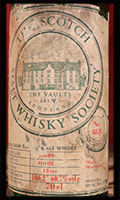 Nose: acidic, cheese, sauerkraut, very oaky bourbon barrel, strawberries, raspberries, elderberries, acrylic, boner wax, linseed oil. The window to the workshop is open and blows a little "from inside".
Mouth: strong attack, numbing, oak wood. Water is really needed here: much milder, strawberry, also Speyburn atypical, different from all other SMWS Speyburns, pungent, very strong. The robust characteristics of a single cask reveal themselves wonderfully here. Uncompromising, but not negative. Relatively strong in character. Great! 60.7% and so soft! Definitely even softer with water. At the very end, with water, the Speyburn pear is also there.
Conclusion: Absolutely incredible.
more notes
here