our tasting notes
here are our impressions...
the tasting notes from the 14th Speyburn Tasting
Morrison and MacKay "Seud na h alba" 10y, 46% 14.1.2009 - 4.2.2019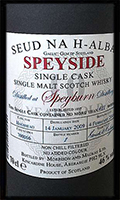 Nose: vanilla, pear, wood, a little prickly on the nose. Evolves from young and tangy to set and sweetish the longer it is in the glass. A slight pepper note remains, though.
Mouth: this is just very young, and the cask was significantly sucked out. Slight bitter nuttiness and grain. Has it ever been in an oak cask? The pallor of the corpse is remarkable. Of course, a whisky that belongs in the Speyburn collection but that no one else really needs.
Conclusion: No, men. This is rubbish! Just strangely bitter on the palate. Barely a lousy cask.
Hepburn's Choice 12y 46%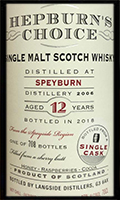 Nose: berry, comforting, loose sherry nature without much around it. Delivers perfectly fine, though. Caramel. Menthol, tobacco.
Mouth: light smoke, the 46% makes it quite crisp. Herbs, sherry wood, slight pepper note, nice attack in the mouth, slightly oily. The 46% comes across really well, and a few drops of water bring out a fat herbal note.
Conclusion: This is a really good Speyburn.
The Cooper's Choice Sauternes Cask finish 9y, 2009 - 2018, 46%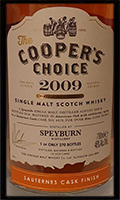 Nose: Very soft, fruity, wine notes, some freshly sawn wood, sawdust, wine gum. The slightly rancid, buttery and lovely sweetness from the Sauternes. Yellow fruits, a little nutty and little metal, rapeseed oil. Oil on the chainsaw.
Mouth: some pepper, but only very light, some fruit gum, a slightly sour note runs over the tongue in the finish, English wine gum (the red, tart ones) currant (black). Again, a good whisky, but not one I can immediately assign to Speyburn blindly. Still Speyburn-like. Oily texture, sweet grapes and some caramel.
Conclusion: dry aftertaste, woody, and still sweetish.
Edition Spirits 12y, UK only, 46% 2006 – 2018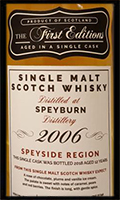 Nose: Mint, metallic, slight acidity, slightly pungent from the alcohol, a little canned peaches, some herbs. Speyburn notes. A bit of honey lightly touched butter.
Mouth: In the mouth, you recognise Speyburn, it's slightly biting, but the Speyburn note comes through subliminally. Slivered almonds and a little chocolate. And sherry. Aftertaste cooling herbs, a touch of sherry and cake batter.
Conclusion: Despite the (only) 46% very alcoholic and young.
Edition Spirits 12y 56.3%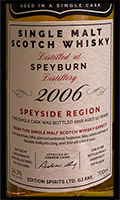 Nose: glue, poopy slightly reddish wood note, wax, vanilla, herbs, locksmith's workshop, musty hay bale.
Mouth: lots of sweet sherry; the 56.3% does a great job here. Salty candy floss with sherry. Don't put any water in it. It smells and tastes stupid. But neat, it's an excellent sherry whisky from Speyburn, and when you burp it, it's delicious on the nose. Cherries, light smoke.
Conclusion: 56.3% from a sherry cask, that almost always works. Here, in any case!
more notes
here