our tasting notes
here are our impressions...
the tasting notes from the 16th Speyburn Tasting
Gordon & Macphail 1968 - 1983 15y 40%

So tonight, we will intersperse a short tasting to live up to our guiding principle.
"a - riamh na aonar"
officially.
This fits very well. We don't always all have to! We don't HAVE to do anything. But if something is, none of us is alone.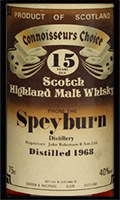 Nose: first of all, a slightly acidic attack on the nose. Tannins, leather. Oak, yellowed book. Nice and old. A little old workshop, some oil in the air, old iron. Next to the workbench lies a basket. Forgotten in it, overripe and rotting peaches. Slightly tropical hints of good and old sherry. Slightly tangy of passion fruit. Heavy and yet despite the "only" 15yo. Linseed oil, bitter almonds and brown, caramelising sugar, gun oil, and remnants of burnt black powder with it after cleaning.
Mouth: gentle acidity. Leather, nutmeg, sherry, old paper. In the background, it has darker tones, lovage, sanostol. The full oak freight. Excellent after only 15yo. Blind, the oak could easily pass for 35 years and older. Pepper and herbs. Altogether buttery smooth.
Conclusion: A charming, old board. Not too overloaded with sherry, but still distinct enough to have all the benefits of an old sherry bomb at the ready. Nobody wants this glass to be empty, but then, as consolation, so to speak, this fragrance again. Sherry, wood and hazelnuts.
more notes
here