our tasting notes
here are our impressions...
the tasting notes from the 17th Speyburn Tasting
Red Plaid, 8y, 40 % (Inverhouse), Blend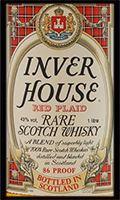 Nose: Pear, glue, honey, foxy cellar. Nice set, malty nose. A bit "old" and minimally rancid. A hint of OBF. Malt, herbs, slightly acidic, sultanas, metallic.
Mouth: fermented apricots, sweet on the palate, old sherry, sweet pepper, and old wet paper. Ultra fat on the palate. Pure oil! Creamy, heather, sherry, old cognac, tart berries, sweet glue, oak spice, maybe a hint of smoke. Aftertaste: I mean short. The others suggest long for a blend.
Conclusion: The Red Plaid is an excellent blend. Great stuff!
Green Plaid, 40% (Inverhouse) Blend (bottled between 1976 and early 1980s)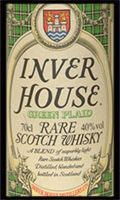 Nose: Gas line, musty, fermented, wet leaves, sour wine, apple.
Mouth: Nice and mild on the tongue, wet leaves, earth, then briefly pepper, salty and caramel on the finish. A little sharper on the palate - because of the grey content? But instead a soft, pleasing blend. Short and gone. On the palate, it continues to moderate, a bit cloacal, salmiak.
Conclusion: We disagree about which one was better. The first one was more pleasing. This one has more character.
Robertson´s Yellow Label 40% (J. Robertson Ltd), Blend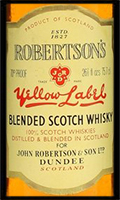 Nose: There is the Speyburn pear in it. Also has something of a wet cellar, but also something sweet, damp leather. OBF, forest floor. Berry liqueur.
Mouth: sweet, fruity, honey, then some pepper. Sherry, wet cardboard, rancid fruit acidity. And well attributable to a Speyburn. In the finish, something dirty, snotty, nice "old" peach/apricot/grapefruit out the back and even a bit nutty. One of us doesn't know the difference between Springbank and Speyburn. A call to order is issued.
Conclusion: This is lovely booze!
Blaimhor Pure Malt, 8y , 40% ( Carmichael & Sons Ltd -> now Inverhouse)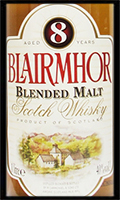 Nose: NOW you directly notice the difference. Pure Malt. OBF!! Full-bodied. Fruity, rancid oil, fruit basket, honey, sticky fruit basket meets Hansaplast! Juniper wood. That's the smell of these wooden handles.
Mouth: fat pear, sweetness, surprisingly mild, very brief pepper in the finish, then it's gone. Somewhat reminiscent of the old CS Speyburns from the 70s. Getting really sweet at the back. The mixture of the herbaceous with the fat pear is excellent.
Conclusion: This is a bottle for the campfire. Turn off the cap and finish it off with friends.
Catto´s, 12y, 43% ( Inverhouse) Blend or Vatted, not clarified, (bottled between 1971 und 1976)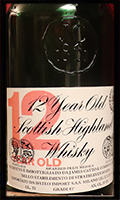 Nose: boah...beautiful. OBF, some spice, some freshness, a fantastic hint of smoke. Old leather, greased wood, a delicate, snotty, dirty nose, sour cherry, glue, dusty furniture, cowshed, bitumen. Amazingly ripe and beautifully herbaceous.
Mouth: leather armchair with cigar smoke still clinging to it. Super smooth, and again very similar to the 70s single casks we had. Even if it comes across as dry, smoke and cold asphalt and some melted rubber, that's something really cool. Rosemary, apricot. Super tasty. Lemon comes through. And when it has time in the glass, ash follows.
Conclusion: What a nice part. Wonderful!
Robertson´s Best Ever Bottled 43% Blend ( 1960s ! )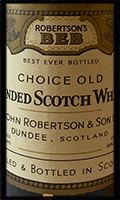 Nose: Very similar to Catto's in the nose. Even if it is a little older, it comes across as very sedate. Noble nose. It smells sublime. Ripe yellow fruits with icing sugar on top. So there's 60s Speybrun in here, cool. Very oily, a bit resinous and herbs galore! Ripe and dense nose, black powder, filter coffee.
Mouth: OBF, herbs, leaves, pine cones, juniper. Ginger and some pepper. Oily, burnt fruit compote with spices. Slightly salty yeast dough. Dark fruit, ripe blackberry, plum, pear, leather.
Conclusion: The notes speak for themselves. Nice Stuff
more notes
here