our tasting notes
here are our impressions...
the tasting notes from the 18th Speyburn Tasting
Gordon & MacPhail 1971 Brown Label 13yo 40%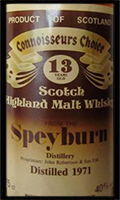 Nose: OBF, "horny mustiness", ripe to overripe fruits, knotweed, "sharp" nose for 40%, menthol, relatively densely woven everything and very rich. Lovely menthol nose, OBF and herbs galore.
Mouth: awesome, fruity, one says "fruit candy" another exclaims "I disagree". One meets at "really tasty". Old wood, sherry, tannins, cooling alcohol.
Conclusion: A long aftertaste. You feel the rumble of sherry and wood aroma on the nose, on the tongue gentle at first, then peppery, and in the finish the reverberation of a deep thunder. It stays long and more extended. Nice long finish, lots of sherry wood that sticks to the palate...Horny shit! Horny shit? Horny shit! Yes! A very nice opener.
Gordon & MacPhail 1971 Speymalt - Special Reserve - Guiseppe Meregalli Import 40%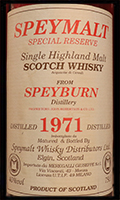 Nose: OBF, ripe fruits, ripe apples (but in fabulous, not like young whiskies usually are), fruit compote, lovely cognac nose and menthol, "Herr Knopfler sings quite wonderfully". Beautiful rich herbal nose. Very attentively, one noted, "This one is not so dissimilar to the first one." Which is immediately acknowledged with the entire experience, "The first one was more intense on the nose." Sanostol or Wick Vaporup - the main thing is a pharmacy.
Mouth: fruit candy someone worked out, caramel, On the tongue very delicate, soft, OBF, dusty, dry, pepper comes very late. Not as sticky as the 1, plastic and wet cardboard. Coffee and chocolate. Is that called cappuccino?! Well done, says the rest of us! The Odin now pulls out everything and throws it into the round: "dusty, real, like when you take a breath in an ancient living room, and there's still an old sherry in the glass."
Conclusion: Great malt! Great vintage! We could drink ourselves to death with this one. The finish is not as long as the first, but clear enough. This is dangerous stuff - if you have a bottle of this, you drink it all the time like a dessert. Tonight, experience speaks for itself, and everyone can learn something. Remember: "It's better to take a carton of this. A bottle can be taken away in a flash".
Cadenhead Original Collection 1975 18yo 46%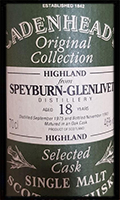 Nose: pear, pear and pear again! Fresh, vanilla pear compote, violets. Some apple cider vinegar. Menthol on the nose, but acidic. Slightly biting, some vanilla.
Mouth: Sweet and pear. A sweetness, a little plastic, old and dusty, slightly acidic. While everyone is sorting out the flavours, one stands up confidently and says: "clearly this beautiful taste of OLD, sweetish, slightly fruity, but also a fine wood note." "Oak note", comes the echo, followed by a matter-of-fact: "for me, on a par with the 2". Vanilla is also good to taste. Vanilla sticks. Pear, oak, some menthol candy, 46% quite strong on tongue and palate, some smoke and delicious oak-wood. Yes, some vanilla too, but not in the foreground. The author's suggestion to perhaps rethink the menthol with "woodruff" finds acceptance. Luckily... - time for an "a-riamh an aonar". Finish becomes really woody after some time on the palate. Everything else fades. Wood remains. Dry. You can also sense a slight smoky note, which meets with approval with the phrase "gentle smoky note out the back".
Conclusion: I can't remember a whisky that had such a clear pear! Is that pear brandy?! A charming interim conclusion to tonight's tasting: all in all, this is a very fantastic tasting today. Just because something is old doesn't mean it has to be good, but all three are top-notch. The 3 have been the first row so far! Now with plenty of courage between the legs: "Good Speyburn, but also random." Ah-ha! That meets plenty of headwinds. The attempt to save "But that was a solid whisky. The word "arbitrary" is a dirty word. They agree on "idiosyncratic, that's it".
Original Bottling 1977-1999 21yo 63.2% #1862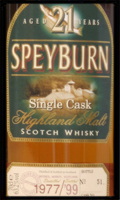 Nose: balanced, fruity, smells of sherry cask. Leather, sherry, tobacco, light smoke, full, fat, rich.
Mouth: wow, it has fire and pepper! An incredible amount of herbs. Once really pulled through all the mucous membranes - and that's a real challenge - it leaves a lot of wood, sherry and also smoke in the mouth. Really a lot of OBF to it! With water: directly milder, even with a few drops only. Nice OBF, menthol, pepper, top. Finish getting dry, decent punch, old wood, maybe smoke, very long, very horny. Very spicy, medium-long. Dusty dry and woody, but really long! Many opinions - one whisky. Great! Only "arbitrary" is really nothing here today except maybe foil fencing.
Conclusion: This whisky is THE board for me tonight. Others join in with: "yes, it's a great piece". But somehow, someone always shoots across the board: "Not for me. Well, it's good. Excellent, but the 1 was better. I'm going to watch them again one by one." Wonderful!
more notes
here