our tasting notes
here are our impressions...
the tasting notes from the 19th Speyburn Tasting
Original Bottling 16y "Travel Exclusive" 43%
We had to wait a year for this bottle. Now we have distributed it among us. Callaman's opening line to this tasting: No one had this malt. Nowhere a shop. We thought it was just a myth. Then a forum meeting in Husum Stephan (Forrestbear) was there. He said something dry in a side sentence about a Speyburn tasting, and the 16y was also there! What's going on there? Fehmarn has the 16y. He was kind enough to get us a bottle on the way back. And here it is, may it now be appreciated.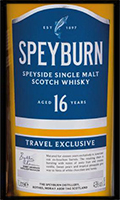 Nose: Mint, heather, herbal, bourbon, some vanilla, blood orange. Lots of oak, sweet fruits. The Speyburn pear is only found after the second or third nosing. A bit biting at first, but that quickly gives way. It also smells of honey, oatmeal biscuit, lye and damp sawdust. Nose conclusion: complex and multi-layered, absolutely remarkable.
Mouth: But pear in the taste, right up front next to the wood, and a few fruit flies are there, too. Dry, lots of fruit, pear, light spice, wood. A lovely sentence from Callaman: Speyburn has already shown with the various single casks from recent times that they seem to have done their homework. In contrast to most of the competition. Further to the taste: Some pepper, wood, herbs. It tingles on the palate when you drink it. If you hold it in your mouth for a long time, liquorice and liquorice juice develop.
Conclusion: Great 16y OA, great cask selection for this standard. Nice 43%, a little too tart if necessary, but that's a different emerging feeling.
A dram like a chameleon. The (!) standard bottling next to the 18y.


more notes
here