our tasting notes
here are our impressions...
the tasting notes from the 20th Speyburn Tasting
Original Bottling bottled for "Celebrating the 125th Anniversary of Lodge Callendar 588" 10y 40%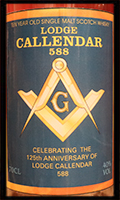 Nose: Hints of fruit on the nose. Towards apple, pear. The fruits seem very ripe. Again it becomes clear that older 10s are better than new ones. Pear, yes - but not as intrusive as the current 10y OA. Very metallic. Gentle glue note and damp forest floor. Oatmeal comes along and, in addition, the "interwoven fruitiness".
Mouth:Sweet, malty and peppery, some fruit. There are a few tinned pears. Some oats and oak remain. Dry as dust at the back. Slightly tingling when drunk. Now it smells like blood, rust, iron rebar, like a building site. The finish is medium long.
Conclusion: Tangy on the palate. Not the best of the older 10y, but we would still prefer it to the latest 10y, precisely because it is so edgy.
Douglas Laing 12y Sherry Cask, 46%, UK only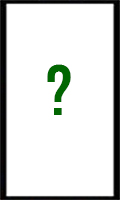 Nose: The nose seems greasy, i.e. FAT with lots of pear and caramel. Suddenly T75 (he can't attend due to holidays) bursts into the tasting and shouts, "ALARM! The SMWS is releasing the 88.22." And then he's gone again. The theory is put forward that some independent bottlers have filled very similar casks with Speyburn. We can't prove that, but this one smells like all its brothers before it, from memory.
Mouth: And somehow, it's not the first time we've had it in the glass. It tastes - yes. Pear, oak, a hint of smoke, slightly biting, some mint to it. And that's precisely what we've had in this form before. More often. Which isn't bad, no, but somehow it seems as if a batch of Speyburn has been distributed among several bottlers.
Conclusion: Somehow, this is an easy-drinking whisky. It tastes good, has few rough edges. It's good to drink, but it's hard to really "take it apart".
Gordon & MacPhail 12y Refill Sherry Butt 59,2%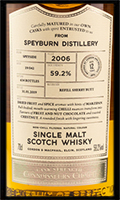 Nose: It smells distinctly of glue, chocolate, plum jam and raspberries. When you smell it for a long time, it has something of the original bottlings from sherry casks, only as a refill and as a reminder of them. Fennel, honey, herbs, quite biting and the Speyburn pear is also there, but very restrained and well blended. Oak, dry, rapeseed oil and caramel.
Mouth: lino, sugar beet, sherry, charcoal, nutty. The 59.2% is nice and smooth to enjoy. Wood, mango, dry sherry. Amazingly soft for the nose. Cherry, pear, almonds on the palate, and the 59.2% are delightful to drink.
Conclusion: This is the winner tonight. Even if he had no real opponents.
more notes
here