our tasting notes
here are our impressions...
the tasting notes from the 21th Speyburn Tasting
The Whisky Shop - Speyburn "A dram to share" 10y 40%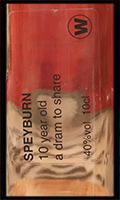 Nose: A lot of pears and some smoke (burnt paper), vanilla, knotweed, delightful fruit basket, shortbread and black wine gum.
Mouth: The palate has something of refill sherry, sweet grapes and white sugar in water, very dry, the sweetness late on, creamy yet flat, more of a smelling whisky. Nevertheless, it shows peppery with hints of pear and vanilla. Williams Christ pear schnapps.
Conclusion: A palatable whisky, slightly modified from the current 10y and marginally better than this one.

SMWS 88.20 "Finbharbs Fury" 9Y 3rt fill ex-Port Quater Cask , only SMWS Edinburgh and USA 54%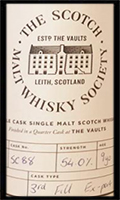 Nose:: A very soft start, but very similar to the 88.10.-.88.18. The port makes it smell a little sticky, even if the port is not clearly prominent. Nice spice, cake batter.
Mouth: the cake mentioned above batter from the nose is fully indicated here! Vanilla stands out clearly. Dry then comes light spice and still pepper. It stays on the tongue for a long time, develops something like strawberry cream drops, and the spiciness makes itself felt well in the throat without being unpleasant. Some of us found the aftertaste a little bitter, but we were divided on that..
Conclusion: It's not really that great, but still, something unique, considering where you can get it - and we had it. And we'll get them all. Someday.
more notes
here