our tasting notes
here are our impressions...
the tasting notes from the 24th Speyburn Tasting
Original Bottling 10y 40 % (before 2005)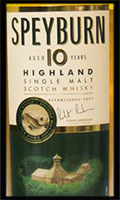 Nose: Dust-dry nose. Because of a long time, it has lost OBF, very dry sherry, herbs without end, ripe pears, and light fruits for a long time. Fennel. Sourdough and some ginger. Definitely to sniff out longer Adorable fruit salad, some pear spirit, plus nice malt and acidic, dry oak. Sage, rosemary and some hay. Nice nose
Mouth: If it were any drier, I would have to dust it instead of drinking. As always, a good portion of pepper. Slightly scented pear, firm to the bite, not yet ripe. Tingly on the tongue, with a perfect taste! The palate depicts the nose well, but everything is a little "blurry". The whole plus dark chocolate. The second sip reveals an astonishingly strong bitterness. Tart spices and dry cereals.

Original Bottling 1977-1999 21Y 64.0% Bourbon Single Cask 1854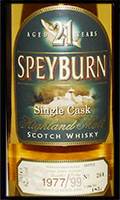 Nose:: : At first, glue, solvent, herbs predominate. With 64%, it crawls directly into the brain. Definitely a scent of "old." Lovely old nose, old coins, herbs, an idea of soapy perfume, dry clean oak, a little fruit. Wood glue, and with water, the nose is much friendlier. Delicate, sweet, old wet cardboard. Memories of summer. When you walk across a mown field on a sunny late summer day, the dry hay crackles under your shoes, in the distance the sea, light salt breeze.
Mouth: Caries burns away by drinking this one pure! Warming, wonderfully warming on the way down. Wood and honey in your mouth. Brute. With a bit of water, maritime, apricots, coastal honey. Slightly salty, oily, excellent 70s style. He opens with water. Becomes more summery and "lighter". Indeed on the palate, more honey, some yellow fruit and salty hay. Excellent! Even with more water, you get it watered down.
Conclusion: Pure an elemental force of pepper and honey. With water, he shows how coastal honey could taste if there was something like that while the last rays of summer crawl over the freshly mown field on a late summer evening and the wind brings you the salt from the coast.
more notes
here