our tasting notes
here are our impressions...
the tasting notes from the 28th Speyburn Tasting
Douglas Laing Premier Barrel 10y Bourbon Cask 46%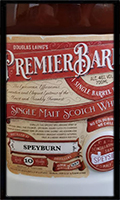 Nose: A pungent bourbon cask. Intense apricots, pear compote, wax. Light citric acid, oak, pear with sports socks. Sweetish, a little vanilla, raspberry vinegar. Tea lights, scented candle, wet paper soaked in vanilla sauce. Nice straightforward opener.
Mouth: This is where the pepper hits brutally. Unmistakably Speyburn pear and oriental spices. It turns entirely in your mouth! It comes in sweet, with freshly cut pears bedded on oats and other grains. Eaten the whole thing with the oak spoon. Cereals and white currants.
In the finish, It got a lot of wood. The vanilla is present, and it is scorched and very difficult, but good.
Conclusion: A really, very special Speyburn that was tamed in a highly active barrel.
That Boutique Whisky Company 10y Batch3 49,5%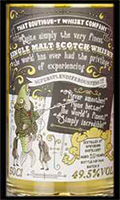 Nose:thick caramel and thick vanilla, with thick butter. Tobacco, lime, boiled fruit, rancid fat. Thick honey. Fermented apple, a little soft, the dough is added, Caramac bars and yoghurt drops. Honeydew melon. A very lovely bourbon cask, it's delicious !!
Mouth: intense !!! Bitter start, with fermented apple, pecans, honey, vanilla, wood, somehow brutally tasty, nuts, a little pepper, slightly salty.
Conclusion: A fine fermented apple with pecans and honey. Half a litre is a bit expensive but highly drinkable.
Hunter Laing Taiwan Exclusive 2005-2018 Sherry Cask 55,1%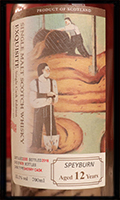 Nose:It smells of wet old sherry wood, plum meat, cinnamon, and a clean sherry barrel. Class! Leather, nutmeg, warm gingerbread. It's so different from previous sherry casks. Incomprehensible. Raw beef steak in sherry, with water, it smells like chocolate.
Mouth: sherry, wet cardboard, herbs, pepper, plum, biting pepper towards the end, blueberries, a little chlorine, which is ok! What a rock-hard board! In the second sip, you chew the cherry and plum cake briefly and end up with a peppery finish. You would NEVER bet on 12yo AND Speyburn blindly! The excellent acidity of the sherry in the finish. Heavenly!
Conclusion: indescribable taste. Simply everything that needs to be included. And ideally matched. Smooth transitions and vacations in the oral cavity.
more notes
here