our tasting notes
here are our impressions...
the tasting notes from the 29th Speyburn Tasting
Douglas of Drumlanrig 7Y 46% 11/2004 - 5/2012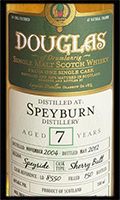 Nose: In the nose, a lot of different baked goods, cakes, the edge of the new cake base, powdered sugar, mint, herbs, grain field, magnesium powder, iron, rust. Pasty, light fruit notes with a bit of pear, a slightly perfumed note hover over it. Something like a lady's handbag, some kiwi fruit, green walnuts, quite metallic-like old coins.
Mouth: At first, there is a slight chilli spiciness, velvety, soft; the dram then gently rolls over the tongue and wraps it in creamy vanilla, at the back the well-known pepper.
With a bit of time, the whisky becomes sweet, with a lot of honey, excellent cereals, a bit of summer when the combine harvesters are at work. In the background, a slight artificial orange aroma, like when baking. In the second sip, he shows the grain, bitter almonds and nuts. Finish: concise, surprisingly short. Orange peel very clearly.
Conclusion: The dram accompanies you along a field. A combined harvester brings in the fresh harvest. The air is dusty, dry, your mouth fills with sweetness, grain, vanilla. You look across the field while peppery orange peels dance over the palate.
Original Bottling for "Whisky.de" 2004 - 2019 Bourbon Single Cask 282 52,5%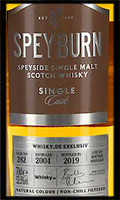 Nose: Here, we start with lovely vanilla, mint, fresh grass, the scent like rain on warm stones (summer rain), toffee, flowery, buttery, wax, Caramel cream candy, slightly floral, some vanilla and desiccated coconut, spicy white oak notes, some cumin, even a hint of cinnamon, a bit of sauna infusion
Mouth: Here is the full pear aroma, then sweet, cake batter, pepper, mint, vanilla and wood, anise, a lot of herbs, a bit tart in the finish. In the second sip, creamy covers your entire palate with sweet vanilla and uses a pinch of pepper as a paste before it disappears with a tart grapefruit note and leaves a dry mouth feeling. Rich mango, honey grains, marzipan and chocolate round off this.
Conclusion: You sit on the veranda and look over the grain fields while the Dram brings you a sweet lemonade with a bitter finish. Just suitable for mild summer evenings.
Original Bottling for "Whisky.de" 2004 - 2019 Sherry Single Cask 219 52,5%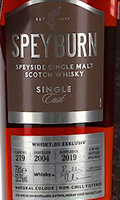 Nose: The full sherry aroma, lovely white chocolate, nutty, rum raisins, light notes of dates, dried apricots, demerara sugar, mint, oak, overripe pear in the background, sweet cherry, wax, fleshy, somewhat degraded blood orange, Armagnac. This is a great board!
Mouth: Here, the whisky tastes amazingly soft, dashes over the tongue, spreads in the mouth and lines everything with sweet sherry, plus a few wooden floorboards, furniture polish, some typical pepper and cherry cream candy in the finish. In addition, a reminder of Haribo Cola bottles, nutmeg, what a mouthfeel. A boss!
Conclusion: Here, we have an entire sherry board with rashes in all directions. Whoever is not served here is to blame.
more notes
here