our tasting notes
here are our impressions...
the tasting notes from the 31th Speyburn Tasting
Bradan Orach, older Version, 40%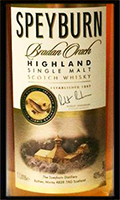 Nose: This Whisky starts with St. John's wort, anise and thickened sweet pear. Overall, it looks slightly perfumed, very spicy and somehow "dark". Peach yoghurt and wax. A fresh note of menthol with vanilla, plum, grapefruit, yeast, grain and some fresh pear in tow. At the very end, some liquorice comes out.
Mouth: That's a pretty flat start in the mouth. Initially mild, the Whisky later becomes a little more peppery.
Conclusion: Any starter. Well crafted Whisky. No missing notes, drink, done. Fortunately, you can swig away while sitting at the campfire.
John Aylesbury Private Cask Selection Speyburn 9y 46%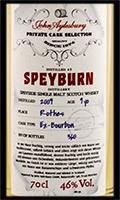 Nose: Right at the beginning, we have a lot of toffee. Caramel candy, fresh cake batter, delicate vanilla and clean wood. Over time, grass, pear and vanilla with wax. Milk chocolate, vanilla sugar and pear pudding cream. An old nightstand drawer. I have no idea how it smells, but that was recognized today.
Mouth: Very soft on the palate. Vanilla meets oak. A wonderful note of vanilla and fresh oak. Unfortunately, both are gone quickly. Later comes moist hay, vanilla pudding, a whole truckload of caramel that turns into Storck Riesen with a mixture of herbs, with a hint of pear and vanilla.
Conclusion: This is a dangerously drinkable whisky
Whisky Chamber 13y 56,9% 21.12.2005.- 09.11.2019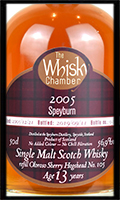 Nose:We have a dreadful start here. We think we recognize Oloroso Sherry. Raisins floating in vinegar. This is followed by wet wood, fine sherry, lovage and UHU glue.
Mouth: Parched, Oloroso Sherry. The sip pulls all wrinkles from our faces. A lot of pepper follows. It almost hurts; nice sherry follows again. Salty caramel in sherry and liquorice. The whisky feels creamy in the mouth. If you hold it undiluted in your mouth for a long time, you can see who the crying bitch is. He tolerates water really well. It Tames it but also changes the character of the sherry.
Conclusion: This Speyburn clearly stands out due to its characteristics. Is the dram sour? Yes, but only at first glance. The sherry is dominant. With water, a delicate creamy and woody dram.
more notes
here