our tasting notes
here are our impressions...
the tasting notes from the 32th Speyburn Tasting
Douglas Laing Premier Barrel 11y Bourbon Cask 46%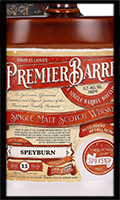 Nose: A fantastic, perfumed bourbon nose that convinces with caramel, vanilla cake batter, freshly cut grass, pear peel. A little later, it becomes woody and also shows some plastic. Pear is ubiquitous and is underlined by damp paper. A light mustiness paired with a few fresh herbs. Sage, in particular, comes into its own here. Wet forest floor, bourbon, unripe plum, acidity, raspberry, ripe fruits complete this great nose. We discussed a lot about this nose, and we didn't always agree, but the variety of aromas is impressive.
Mouth: That's a great flatterer. It is initially very fine and gentle as well as mild. After the first impression was not the worst, the vanilla and the typical pepper play their way forward. Cake dough is added, which is pleasantly noticeable with a slightly woody note. On top of that, there is an extra portion of vanilla. The second sip, milder and slightly peppery, it invites you to drink quickly. An apt description of this evening describes this whisky as a creamy pear-cream spirit with vanilla garnished with some garden herbs and a bitter start.
In the finish, this whisky is really tart and stays in the mouth for a long time. Our memories of this dram is very dry, sour and peppery.
Conclusion: This whisky is a good advertisement for Speyburn !!!
Premium Spirits Belgium Bourbon Barrel 2006-2019 52,5% Single Cask 188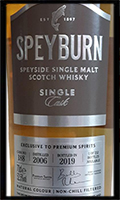 Nose:Immediately, light pepper rises up, followed by a fruity apricot. Glue and vanilla make an exciting combination here. Much sweeter than the Douglas Laing Premier Barrel Speyburn 11y Bourbon Cask 46%. Stinging on the nose while some pear plays with vanilla in the background. Nice sour notes framed by fresh oak. We could also replace the apricots with canned peaches. A bit of lychee finally finishes off the nose.
Mouth: What a delicious start. This whisky is a real vanilla bomb. A barrage of pepper and resinous wood set the scene. The fresh oak becomes very dominant. This whisky is a liquid oak board with vanilla and pepper. Association of vanilla, meat juice (beef). In the end, we have more pepper.
Conclusion: This is an honest, original Speyburn.
SMWS 88.17 "The Salmon Cannons of Rothes" 9y 4.2.2009-2019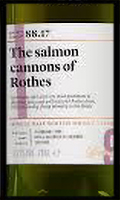 Nose:This whisky smells like you've mashed a vanilla pod with cumin. Like vanilla croissants. In addition, there is cake batter (plain/waffle batter raw), we are about to lick the batter bowl. Butter-almond cake fresh from the oven served with brown sugar.
Mouth: A nice mix between tart and sweet, coconut, smoke, butter, almonds and vanilla. In the finish, this wonderful vanilla oak note.
Conclusion: This whisky is a liquid vanilla crescent from the best house in the Speyside. Peppery liquid cake batter with a vanilla pod. Bottled by one of the best independent bottlers in Scotland. Speyburn and SMWS gang together.
more notes
here