our tasting notes
here are our impressions...
the tasting notes from the 34th Speyburn Tasting
Glen Galwan Single Malt 40%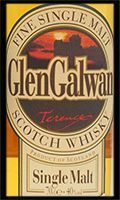 Nose: Here, we start with pear, vanilla, wood. In the further course, we have mushy fruit, hints of plum in Madeira and marzipan in sweet wine. The dram smells softly of summer and damp wheat fields. He keeps changing. From initially mushy fruit to now fresh fruit and grain sprinkled with lime. In the end, we still find orange peels.
Mouth: This dram envelops both the tongue and the palate delicately, velvety soft. The alcohol seems to be disappearing almost completely. A heavy sweetness floats on top, and pepper swings in the finish. In the second sip, the sweetness predominates. Only then does pepper follow. This time almost nothing is noticeable on the palate.
Conclusion: This is a good summer whisky, no more, no less. It doesn't deliver much but is clean, drinkable and pleasing. It doesn't hurt anyone! This whisky is an excellent entry-level whisky in all respects.
Gordon & MacPhail 1988-2010 21y 43%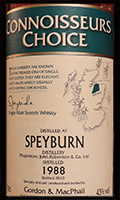 Nose: He has a beautiful nose. It is reminiscent of drams from the 80s, which still echoes the 70s with the sweet/sour fruit. Unfortunately not as intense as we would have liked. An intangible sour note on the nose. The acidity of tart cherry juice. Lots of cumin. Sweet and salty caramel, slightly sour herbs, vinaigrette. A whole herb bed with sorrel.
Mouth: At first, we only taste salt. Gentle, velvety, this dram creeps over the tongue and palate like a cat and leaves fine herbal traces with a touch of vinegar or sorrel. But it could also be lime zest before the whisky slips away with lightly peppered peach. A hint of pepper and herbs remains in your breathe.
Conclusion: Refill sherry? That seems very optimistic to us. In the second sip, he comes out of the curve nicely. He presents pepper, peach and oak with all the power that is in him.
more notes
here