our tasting notes
here are our impressions...
the tasting notes from the 35th Speyburn Tasting
Original Bottling Decanter 21yo 40%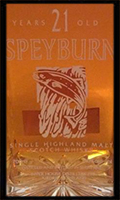 Nose: Right at the beginning, we have OBF and oranges/blood oranges and furniture polish. Slightly pleasant balsamic vinegar followed by dry sherry. We also find dried dates and a nice nutty flavour. Over time we find musty, old books, as well as oily lovage, caramel, walnut oil, herbs. This dram is somewhat of a cognac.
Mouth: A solid dram. OBF rinses the mouth. Soft, oily and dusty on the tongue. The whisky looks damn dry. Weak pepper shows up, followed by a metallic, smooth and sour pear. It rolls very gently over the tongue and caresses the palate, pear, pepper and tart apricot. A few bitter spices romp about with it. Slightly peppery. Delicious old whisky. Like this! we want an old Speyburn Bourbon Cask.
Conclusion: This one divides the tasting group. Some say "exactly like this" others find the best if "OK". Solid, no top grades, but tasty and what we like is the much of OBF. The finish is medium-long and pleasant, and that it is both soft and super dry. That makes him attractive.
Original Bottling Solera 25yo 46%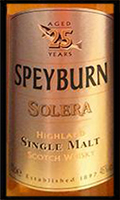 Nose: A fruity start. We have bread dough right in our noses. Mirabelle plums and pears are not dissimilar to its predecessor (Speyburn OB Decanter 21yo 40%). Maybe a little flatter, so less intense. Grandma's oak closet, a little mint, OBF, a kind of humidity that is difficult to describe. It smells of autumn, wet paper/cardboard, autumn with fruit, leaves, pears, Wrigley's Spearmint, sour rhubarb and yeast dough, a nose that reminds us of days long gone. In grandma's good room, plus dust, slightly acidic. This dram seems sublime.
Mouth: Here, too, it remains dry, slightly spicy. All Speyburns have this pepperiness. We like that very much. Overall very dry, lots of spice and OBF, mineral, rust dust, pepper and pear. Excellent features for this still. With the second sip, some raspberry and espresso. Pepper, light sweetness, some wood, not as wild as the young things. Just beautiful. A lot of wood remains in the mouth, followed by a slight sweetness. In the nose, it is much more intense, in addition to pepper now also caramel.
Conclusion: An entirely different Speyburn Solera 25y, we have had Speyburn Solera 25y before, but that one was not as good as this. A very sedate Speyburn, which clearly shows the distinctive features of the still.
more notes
here