our tasting notes
here are our impressions...
the tasting notes from the 37th Speyburn Tasting
Glen Drummond 8y 43% red Label Italian Import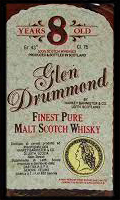 Nose: gas pipe, OBF, wet cardboard, fine herbs in olive oil, woody, some rubber. It's very filigree, bright, and it reminds me of Dourade with parsley. Pepper and herb crust on cod with mustard and dill sauce. And then fresh hay?
Mouth: First exclamation: Baah! The palate is completely different. I could believe in Speyburn! Like an old 10 Speyburn, quite an old one. Mirabelle plums. First, bitter, mild, soft, then a little pepper is added, OBF and cardboard then pepper again ... it goes in the direction of the old 10s. Light fruits, at least ripe apples, if not even pears. In addition, something herbal. Pear in herbal stock.
Conclusion: this is a (possibly) hidden old school Speyburn with lots of herbs and OBF. Fascinating nose, an angular fellow. A little irrelevant on the palate until it starts. And then really good.
Glen Drummond 8y 43% black Label, bottled between 1971 and 1976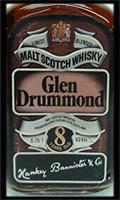 Nose: artificial peach note, gas pipe to the power of ten, tart, dry herbs, sulfur pear, old leather work gloves, hidden OBF under or behind the glass with herbs, wood, have you rubbed whisky in your hands and then smelled your hands ... .. make ... very excellent, menthol, cold steel, metal chips.
Mouth: BOAH, is it soft, round, then pepper comes with time, OBF followed by OBF and OBF, then oily herbs, some cold ash, charred herbs, in the second sip it shows its dirty side, a slight woody sweet sherry board, sour pear, cold herbal tea. He's a little rough. That's great! With rough edges and with caramel pudding. Almdudler without sugar. That is an exceptional opinion, but we are ONE clan. Others call it bitter vanilla. That could well be an old 10y. Herbs, pepper, OBF ... that fits very well. Dark chocolate.
Conclusion: Either you can Speyburn or not!
more notes
here