our tasting notes
here are our impressions...
the tasting notes from the 38th Speyburn Tasting
Cadenhead Dumpy 1967-1979 12YO 45,7%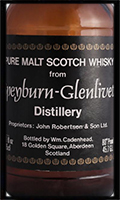 Nose: Moist forest floor and mineral, asphalt, herbs, damp carpet, cardboard, cardboard, OBF, woody honey, slightly salty leather, cans of pineapple and cans of peach, ash, coal briquette, dusty old attic. Inhaled deeply: wet hay
Within 45 minutes, it changes from a wet basement to dry as a whistle, smoke, then multivitamin juice—heavy stuff.
Mouth: spicy start, pine needles, hazy, tastes like forest air if you could eat it, sweet herbaceousness, becomes dry, slightly medicinal, in the second sip the honey sweetness dominates, followed by coal-like herbs, light pepper and a dry finish.
Amazing smoke notes. You don't know about Speyburn like that. Did they use the old offering? In the old building? It would fit in time. Elegance and Power. Components in the wood that give smoke aromas.
Conclusion:One of the most unusual and at the same time oldest Speyburns. Great nose and a perfect taste after over 41 years in the bottle. A treasure! Craft through and through.
Cadenhead Dumpy 09/1975 - 02/1991 15YO 63,1%
Nose: passion fruit juice, slightly musty start, rare malts memories with cotton candy and white sugar, dry spruce wood, the greasy wooden handle of an old tool, nose deep inside, inhale and enjoy. Wax, pine needles, OBF, soft, a little vanillin, banana, greasy
Mouth: an OBF ramp pig! First sweetness, then OBF and wet carton, then a good portion of pepper followed by a mega dryness. With a lot of pepper, Waxy, dry as a pig, it tastes hot in combination with rust dust; it is very close to the perfect whisky.
The Sharpness gets lost with a bit of water, and an incredible amount of OBF and flavour remains. In addition, a sweet - sticky note.
Herbal high octane notes. A dream. Conclusion: After 29y in the bottle, this drop today revealed an abundance of elusive flavours. A very balanced whiskey despite or because of its%. One of the best 75s ever. A high proof Speyburn from a remarkable decade of whiskey. Powerful, elegant, uncompromising in a positive way and maybe a bit polarizing.
more notes
here