our tasting notes
here are our impressions...
the tasting notes from the 39th Speyburn Tasting
Douglas Drumlangrig 9yo 46% 11.2004 - 04.2014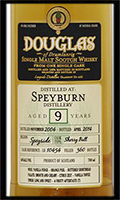 Nose: fruity cream cheese and whole, very subtle smoke, wood, fruit, entirely closed, typical, younger UA Speyburn with yeast, doughy oak and yoghurt drops, a lovely nose I think changes very quickly, right after pouring. The nose is ok, and for a UA at that age, one of the tops, he needs time. Definitely for the better.
Mouth: Runs in very softly. Strawberry yoghurt without end, vanilla (plenty), gentle seasoning, WOW! I would not have thought that. This is strawberry yoghurt schnapps. A real sweet, mild, sticky sweetness, fruit (strawberry?), At the first moment, I thought, "Urgs, a distiller". But then, yes, it changes. Very clearly even, a little pepper in the finish, yogurette in liquid with a gentle bitterness, also in the second sip it is very sweet.
Conclusion: ruity strawberry yoghurt with a delicate sticky note and a hint of pepper in the finish. @OdinNord insists that vanilla was mentioned here. A real surprise for a "label outsider". To overlook something like that would be fatal because then you would miss something. It's a very fine and, at the same time, a great one of the young UAs.
Cadenhead Small Batch 10yo 2008-2019 55.8%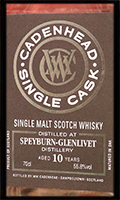 Nose: At first, it seems cheesy, greasy, stinky, sourdough, sweet cake dough hides behind the cheesy, not a simple one, next to the smeary one is very closed, a hint of cumin, very dusty, an association of wood, a bit yeasty, with water it smells significantly better. Oak, summer meadow, mountain air, peanuts with paprika, Nic-Nac, freshly sawn timber, and tannic acid and resin mixture. Difficult to grasp. It has the potential to be a smelling whiskey as much as it has changed in my glass in just a few minutes...
Mouth:urprisingly mild for 55.8%, later then sweetness and pepper and pepper and pepper, I find it too spicy on its own, super peppery, almost overwhelmingly spicy, not even "not tasty" but too peppered, the taste of the alcohol is entirely pure and whitewashed everything, salty, yeasty and a few herbs. Then a bit of vanilla sweetness comes into play, something sour like creme fraiche and then a large pinch of pepper, but well dosed, then it remains bitter and a bit dull. Don't slide any further. Much better with water. Pear, wood, marzipan, an almost flowery nose, sweet bread dough, and a solid and lovely start with significantly less pepper, all of a sudden, it becomes delicious. Pure it is heavy on the pepper, with a bit of water, it becomes delightful and delicious. With water, it becomes palatable and drinkable, and the Speyburn component comes out well. It becomes fun and delicious with a bit of water because it suddenly has good barrel notes, pure those that remain behind the alcohol and the sharpness. You have to get to know it, and then you can enjoy it. One that is not good enough on its own. % is not everything. The one on drinking strength. Great. A very lovely fine with water. Sweet, white sugar, marshmallows, lots of vanilla, baking powder.
Conclusion: Pure a brute force of pepper. You can enchant the sugar water only with water, and a flowery, sweet, slightly bitter wooden ceiling opens. Life down here is a strange illusion. There is a Speyburn that only becomes good when you turn it into a drinking strength. Percentages are not everything. The revelation lay here in a few drops of water. From too much pepper to the aromatic mountain air, everything is possible here. After the failure of the predecessor (Small Batch), this is an absolute revelation in itself. Wonderful chameleon. Harmonizes wonderfully with water and invites you to explore. One who likes to accompany you through the evening. Very variable in the nose, shimmering like a chameleon. But quite snappy sneaky like a wildcat. In the mouth, without water, a lot of pressure from alcohol. Behind it, the classic Speyburn notes are barely noticeable. With water, it opens - and it can drain a LOT of water. In the end, I think I was 1:1 or even more water. Then flattens out a bit, of course, but remains sweet and pleasing.
Cadenhead Authentic Collection 10yo 57.3%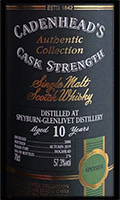 Nose: First vinegar, freshly poured cheesy and greasy, cleaning agent, floor wax, candle wax, bark wax, wax of all colours, ozone and a little chlorine again.
Mouth: first sweet, then dry, peppery heat - boy - it all dies off before I dilute: slightly greasy smoke, similar to Ledaig. But also very present. Memories of Springbank come back here, pear, honey! Some oak, bitter jam, orange jam, tart, tart honey, pecans, sweet and salty, spicy, pear, a lot of wood, arid, but pleasant to drink. Luzi screeches. It brings tears to your eyes and not because he's so horny. First of all, it brutally paralyzes everything after a bit of "coast" has sounded through. Only one thing can help. Water! Water has to be dosed carefully; it tips quickly, with water much sweeter, dough, vanilla, wood, and pepper, soft, vanilla, rather more vanilla, then clearly leather, wood. The dry note remains, smoke in the air. At the very back of the palate is the smoke, very unusual Speyburn, wild, rough, lively, Scotland, candied pear lightly smoked or sprinkled with roasted almonds.
Conclusion:It is hard to act, requires a lot of patience and training time, but rewards you with its temperament and independent character. This gentleman also wants you to get to know him. At first, he is closed, downright scratchy. With a bit of time and water, we will be an excellent companion at the fireplace. Sweetness paired with pepper and woody vanilla lead to a slightly smoky/spicy finish. Pure a very closed character but allows the connoisseur to look behind the scenes. He invites you to linger for a long time with a bit of water and not ask so many questions. Changeable, aromatic, tasty, depending on the phase. With water, it loses some of its rough characters. I like it better without it. Here water is not as "invigorating" as in the small-batch ... Again, one for a long, intense evening. You don't want to drink at all; for fear that the nose promised more. But also because every sip means a relentless step to the end of the glass. Water helps him to open up and bring his hidden sides to the fore. Most exciting is the latent but present smoky note, which gives the whiskey its very own profile without whitewashing everything.
more notes
here