our tasting notes
here are our impressions...
the tasting notes from the 41th Speyburn Tasting
Speyburn Flora & Fauna 12YO 43%

There are times when one should be humble. There are times when you are quieter. Yes. But this tasting is not suitable for it. Because we have drilled the thickest board that has ever been drilled in Speyburn. Against all reason, but with absolute will and consistency, we got the whisky that will be the only one to be judged that evening. Speyburn, flora & fauna, 43%, Bought, torn open, distributed. We can rightly be proud of ourselves and the madness that resides within us - you just have to go where it hurts if you want to achieve a goal. Financially this was our Champions League, oh well ... more like our World Cup.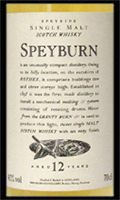 Nose: Hay, a touch of mint, some glue, freshly sawn oak. A slightly closed fellow. Gentle OBF, soaked oak wood with pear spirit, light vanilla and a touch of herbs. Has something of an old 12er. Somewhat oily and a spark of smoke. Prickly. Here a heavy wooden door is opened to a long-locked library, dust, old paper, some leather, oak, fine herbs, vanilla and a trace of smoke, some wet tobacco. Green banana and a light berry aroma. Some fruit compote - just doesn't want to overuse the pear again. And yet it is pear. Overripe pear. It reminds me of the old 10s.
Mouth: Pepper - ginger mix and again the spark of smoke Somewhat more calibrated than the 10s ... But whether these are the 2 years plus? Echoes of tiramisu. Because it has this slightly bitter espresso cream. Soaked spoon biscuit and cocoa powder Dry oak with vanillin, herbal sweets, for 43% and the elderly quite peppery, salivating, a lot of mocha ... Pretty tough guy. Dry oak, a lot of wood and a bit bitter, then something like a campfire and then getting sweeter and sweeter.
Conclusion: With only 43% it is clearly shown here that no CS is required or a complex barrel extension to give a whiskey depth. It doesn't need more than what this drama brings with it. This shows the potential that is in Speyburn and how it works when it is stored in good barrels and bottled at a reasonable age.
more notes
here