our tasting notes
here are our impressions...
the tasting notes from the 42th Speyburn Tasting
Vatting with only 10 year old bottlings, 41,75%,
Speyburn Clan Germany Only Bottling
Fxxx Yxx Speyburn Market X Only Bottling-Edition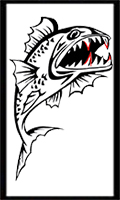 Nose: Smells of pear and oak wood, wax and cake batter, in the background a bit of plum, sweat ?, Sanastol, herbaceous, OBF and wet paper, Christmas tree, flat.
Mouth: Very good peppery start, caramel dessert, caramel, malt, gentle pear and a light OBF flair, but only stays for a short time and eats away, flat, a little wax, a lot of pepper and tart herbs. The subtle sweetness and a nutty bitterness, white pepper in the finish.
Conclusion: A nice start. Compliant
OB 15yo Cask #277 South Africa 52.5%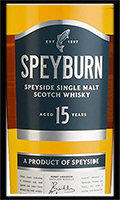 Nose: Vanilla, tobacco, strong, rich bourbon cask, caramel without end, me Speyburn pear, mint/pine needles, vanilla, alcohol is noticeable, a bit sour, boron barrel. Citrus fruits are slowly coming through, mango ... Very nice nose. Should you stay longer with ... Mango, sourly spicy, then a little freshness (menthol (/ mint), mint tea, black currant, vineyard peach.
Mouth: Fruit bomb in the mouth, with a vanilla topping and a trace of coarse dry wood behind it, pepper, vineyard peach, peach is becoming more and more popular, with water it becomes really sweet, but loses pepper and gains peach skin, slightly furry, the peach sticks to it Palate, unbelievable that it displaces the pear! Tropical, the alcohol is a bit too rough and not integrated soft enough, peach passion fruit, white chocolate.
Conclusion: Another one from this single cask series that makes really big arms. That's a good Speyburn !!!!! A wonderful bottling.
Blackadder Raw Cask #701700 11yo 55 %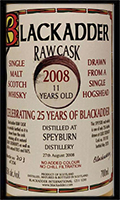 Nose: Butterscotch and cheese, smells full of fatty, caramel with chewy rapeseed oil, crème brûlée, and what I love is the Speyburn pear embedded in crème brûlée, A touch of acidity from an overripe blood orange, chain fat (not the drink) ... the real one, it has been in the glass for a long time and it seems set on me, pear Helene, there is something slightly sour in the background - one Fruit. I can't figure it out ... pomegranate
Mouth: sweet, butterscotch, I would have imagined it to be more brutal in the mouth. Spices and pepper, I find the alcohol much better integrated here than in South Africa, cake batter with pepper, I like this power in my mouth ... wood, but also vanilla and fruit .... sweet, but not overloaded, with water it becomes more pleasing ... more palatable, it is nice and edgy
Conclusion: He's very cool too! Straightforward, non-violent, delicious. A wonderfully authentic malt of a very good variety. Speyburn can do something if you let it. 15 years beat 11 and 10. A fantastic Speyburn, angular, voluminous. Not elegant but special. A really strong single malt.
more notes
here