our tasting notes
here are our impressions...
the tasting notes from the 43th Speyburn Tasting
Spirit of Scotland Vintage 1971 40%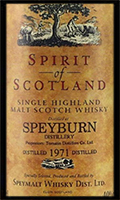 Nose: Been in the glass for a while. Apple/pear puree. OBF, but thin, kind of. Sweet, malty, yellow fruits. Wooden boards. Knotweed, overripe grapefruit Then the line-up king knocks you out: It smells really deep, you can guess thick sherry syrup, here I would like a cask strength or at least a little more %, then the sherry would come out stronger, sour oak, grapefruit, kirsch and a gentle blend of spices that is vaguely reminiscent of gingerbread. Now a lot of discussions revolved around the fact that the filling level was already bad and the amount of air - that wasn't good for the whisky - but it isn't bad either. Is just old stuff with little % and a lot of air is just not so good for so many years.
Mouth: As feared ... it had too much air, first a little OBF then suddenly it looks watery, a little pepper, in the background something dusty, dry sherry can be guessed ... it was once BIG, a shame to let it go to waste. That is certainly not 40% more. A little nougat tastes good. Something cute in a damp mushroom basement and OBF.
Conclusion: Unfortunately a bit thin, but you have a clue of delicious whiskey Too bad. Due to the low level, it has lost a lot of its taste. OBF and dry, peppery sherry can still be guessed at, but it's no longer the size it deserves.
SMWS 88.6 1975, 25YO, 63,4%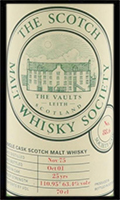 Nose: Wood glue and sawdust, pastries, honey or unripe honeydew melon. The OBF is behind a slight sharpness. Pungent, alcoholic, vanilla, real liquorice, herbs, fresh mustard, menthol, a sticky cellar scent. Dried orange slices. Bacon. very hot, biting, fishermen's lemon, a little bit of menthol, even a little salt, very spicy base, has something like dried broth, oranges, even a bit meaty. Stock cube! Herbal stock cube dissolved in alcohol and The wood/smoke note of Viennese sausages. Lentil soup with bacon is complex and exciting
Mouth: once washed through the mucous membranes, everything in the mouth shrinks together. Surprisingly creamy, sweet start. Neat pepper and slightly oriental. You can tell the%! Sweetish, soft, plenty of guaiacols (smoke) join in, a bit of refill sherry, a hint of salted, yellow fruits. Plenty of OBF, plus pepper, sweet, a little smoky bacon, coal-like wood, dry and it pushes a lot of warmth into the stomach. The palate tops the nose by lengths. I missed a bit of complexity in the nose, the palate fully balances that out and surprises with this creamy sweetness that is bathed in salt. Also: mango, cinnamon. It is a burner, very complex - we enjoy it! with a little water, it gets even more vanilla sweetness which the OBF finely frames, but its structure remains finely creamy, greasy and develops an extremely salty note that it only hinted at before. Even more water (this time a full sip) ... he can do that, the nose develops into GENIAL ... sweet honeydew melon with fresh bacon and pepper, on the tongue now OBF (!!), full, plus some coal dust and cold-smoked bacon
Conclusion: Stand your ground, this one screams out! Brutally it goes forward. Headwind? Yes and? Follow me. Water doesn't destroy this one, it opens up new niches that make it extremely complex. Extremely strong appearance.
more notes
here