our tasting notes
here are our impressions...
the tasting notes from the 44th Speyburn Tasting
DL Provenance 08yo 46% Cask DL117785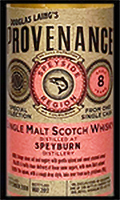 Nose: fat pear compote, pear Helene with alcohol, vanilla, gas pipe, sulfur, fermented fruits, in the background some pear and vanilla, a bit of beer, doughy oak, cereals, a bit greasy, somehow dull and a minimal touch of rubber, rubber with fruit, fresh grass , Fruit gums, yogurt drops
Mouth: Clearly oak, but also greasy, and again fruity, then becoming dry, a hint of vanilla, and then more wood, mild, slightly spicy, wood, yogurt drops, dough, pepper, oak, a bit of this canned pear from a bad brand, where the hard and not completely peary, I didn't find the nose that bad, the palate is meaningless, I find it soft, peary, but actually it is quickly on the run, one-dimensional, it gets sweeter with every sip, caramel, boring. After a glass, I'm wondering if I really want another one, liquorice.
Conclusion: This Speyburn is a Laphroiag. Like him or not, he divides the whiskey society, this one ranks at the lower end of all Speyburns in the glass so far.
DL Provenance 12yo 46% Cask DL13659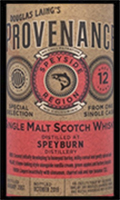 Nose: FCirtrus with cheese crackers, pineapple, citrus ... clear, nice and refreshing. In addition, a not so dusty note of wood. Something like birch blossom, cheesy, white wine
Mouth: mild, almost like water, then pepper, a lot of pepper ..: end, batter, white pepper in mild, a touch of wood, dry, far away the pear may still play a role, but the bourbon cask is dominant and keeps the Speyburn pear in check, It develops bitter-woody over time, oilier than the 08y, but somehow paler, at the same time "rounder" if you can say that at all with these top malts. Donnerlittchen, buttery.
Conclusion: better than the 8y because it has more ... how should I put it ..... circumference. This is a good 12er Speyburn that cannot match the good old 10s, but tastes better than today's modern 10s
more notes
here