our tasting notes
here are our impressions...
the tasting notes from the 45th Speyburn Tasting
10y Original Bottling L3 341 M3 1450 40%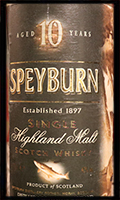 Nose: is top, soft, nice OBF Sweet vanilla caramel mix, Very nice, almost filigree, a bit of herb, herbal note reminiscent of Retsina, plenty of Spey pear (juice) Sweet white wine notes with powdered sugar, wet cardboard and wet pepper
Mouth: uch ... empty ... hahaha Slightly thin start, creamy, soft, plus pepper and OBF, overall it also looks very oily, full, with a little pepper and something else spicy in the finish. Also has something fresh. slightly reminiscent of green cucumber, but not unpleasant. A little herb collector, the pear gives way to the herbs and the guy has a lot of pepper that digs into the mucous membrane, a bit of oak, corpse guacamole and that's it, the hint of pear. GOOD is SO easy.
Conclusion: nice, tasty part
10y Douglas Laing Provenance 09/2008-09/2018 46%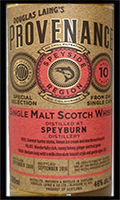 Nose: First pear brutal, slightly pungent. Then hay and floral notes. But one of them thinks: cheese feet, old sports socks, the shirt was worn for 7 days and repeatedly sweaty and also: varnish, pear varnish, hubabuba sweetness and brush cleaner, curry herb (plant sap) and artificial sweetness And some fresh mint
Mouth: Sweetness followed by a strong portion of pepper, plus a little curry herb, has a much stronger effect than it is Pear compote, no depth, but not unsightly. A little alcoholic. Lovage and salt, out the back. Another opinion: It's really weird on the palate, like over-salty food, where the taste has been killed, but you try again because you like to be disgusted. Mineral and bitter.
Conclusion: This is more like the splitter here. Not good, not bad, but unworthy of mediocrity This is the work colleague you hate like the plague, but unfortunately depends on him because he does a good job
13y Douglas Laing Old Malt Cask 50%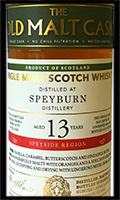 Nose: aggressive nose. Wood, apricot, plum, sherry, a bit smoky. Smoked apricots, plum sauce with bacon, dry tobacco. The fruit flies respond to that.
Mouth: Cake batter! With sourwood and white bread dipped in sherry, tobacco, pipe smoke from afar. Also, one who doesn't survive the evening, very tasty. Despite the 50% soft and round, tasty, sweetish, despite the gentle pepper, it looks sublime! Dry leather on the palate. With a little water, it becomes softer, has more leather notes, plus tobacco, pepper and salt. Grilled dates
Conclusion: He is like an old friend whom you see again after a long time and he takes you tightly in his arms. That would be an ideal companion for a clan bridal day. The OMC here actually has OBF too, late, but it's there.
more notes
here