our tasting notes
here are our impressions...
the tasting notes from the 48th Speyburn Tasting
House of Peers 43% 1970s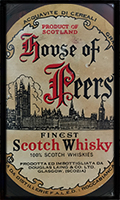 Nose: Here we start right at the beginning with dough, wax, herbs, gooseberry, acidic, slightly unripe notes.
Mouth: A bit biting at first then follows pepper, metal. A dry dram that plays out its sweetness over time. Towards the end, yellow juicy fruit flatters us.
Conclusion: a pleasant start to the tasting. Delicious.
St. Drostain's pure vatted Malt 43% 1960s/70s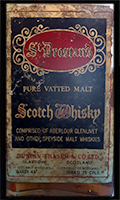 Nose: Here we are surprised by the sherry. This one is "straight in your face". Aromas of cherry, tobacco, sulfur, rubber, gas line as well as lovage follow.
Mouth: A soft start, which is then followed by some pepper and sherry. Cherry, sweetness, spice, red currant acidity round out the first impression.
Conclusion: This whisky was allowed to mature in very good whisky barrels and has lost nothing of its strength and flavor over the decades in the glass.
White & Mackay 43% distilled between 1949 and 1958, 21y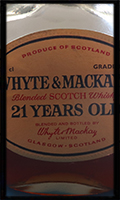 Nose: The first thing we perceive is lovage, followed by toasted almonds, leather saddle, menthol, furniture polish, marzipan, damp wood. A very complex and deep nose.
Mouth: Here we have abundant tannins, licorice, lovage, brown candy, spicy, tobacco.
Conclusion: this is distilled lovage. Incredible depth this whisky brings to the table. A dream.
Old Bushmills 43% bottling 1970s, dest.1960s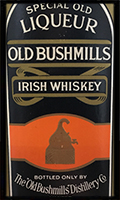 Nose: An unusual nose. Cheesy, potato, sulfur, OBF, earthy. Exciting combination these flavors.
Mouth: This one has real power. Sulfur works its way through, bringing brown candy and crème brûlée and overripe blackberries eaten off an oak spoon. An overall salty thick texture
Conclusion: the only non-Scotsman on this evening knows how to use its charms well.
White Heather 43% 1980s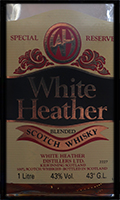 Nose: This seems to perfectly absorb the cheese note from the predecessor, then stings a bit, solvent, dry hay note, forest honey, lime, metal. Memories of a farm come to mind. Very changeable whisky.
Mouth: Very nice fruity, pleasantly sweet, hay, strong attack, honey. Much softer in the second sip.
Conclusion: a perfect continuation of the Old Bushmills. Very tasty.
Ambassador 25y, bottling 1960s 43%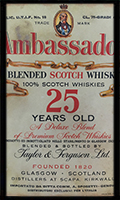 Nose: Here we start with grapes baked in sherry. Followed by coconut, cinnamon, heather, spicy, salty caramel, sea air. A never ending nose.
Mouth: Here cold metal and gas pipe grabs us. In the glass, the whisky seems very oily and offers a lot of OBF. In the second sip, which is much smoother we find an old wooden box, licorice, walnuts, salt and sherry. This whisky keeps changing.
Conclusion: Unique! Quite great cinema. What a dram!
more notes
here