our tasting notes
here are our impressions...
the tasting notes from the 49th Speyburn Tasting
Gordon & MacPhail 11y Cask 281 46%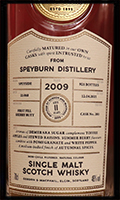 Nose: Blunt, slightly acidic, vanilla, sweet, cake batter, caramel, musty, blood orange, oak, sherry, dried fruit, indeterminate herbs.
Mouth: dry, pepper, sherry, spicy, vanilla, creamy, caramel, sweet, oak, acidic, quite strong, becoming more complex, grapefruit, seems "thick" in texture, chewed grape seed.
with water: milder, even sweeter, dry, salty, pepper
Conclusion: Difficult dram! It needs time, then it can be very interesting. Seems to be a dry fino sherry that has made its mark here. Its dryness, woodiness and strong 46% make this whisky exciting!
Douglas Laing´s Provenance 13y 46%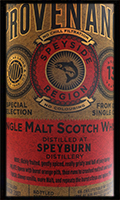 Nose: Wood, sweet, leather, yeast dough, slightly pungent alcohol, marzipan, wet stuff, marshmallow, sour/dry apricot flesh, liquorice, cinnamon.
Mouth: Pepper, dry, oily, soft, leather, some sulphur, creamy.
With water: spicy, leather strap, very dry, nutty-bitter, grassy, woody.
Conclusion: TOnce again an atypical Speyburn. Its dryness is its trademark.
Original Bottling US only 14y 52,5%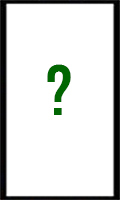 Nose: Sticky, sweet, nice bourbon cask, herbal, tropical, rosehip, cereal, rye.
Mouth: Dry pepper, vanilla, wood, oily, bitter, cake batter, cereal, molasses.
With water: much milder, some pepper, dry, sweet bubblegum, menthol, herbs, tart, yeast dough, cereal
Conclusion: A dominant bourbon cask. Despite its %, it seems mild. Only with the addition of water you get the open. Not an easy candidate.
more notes
here