our tasting notes
here are our impressions...
the tasting notes from the 51th Speyburn Tasting
Gordon & MacPhail Speyburn 12y 60,3%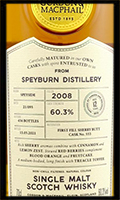 Nose: Wet earth appears right at the start. Unusual, but not negative. Light sherry lingers around the nose and suggests a certain sweetness. A little bit of sherbet, a lot of white oak and coconut like a pina colada.
Mouth: Amazingly mild start for such a cask strength. Followed by caramel, sherry, slight sweetness. This dram needs water to open up further. With water it is smooth and also reveals herbs. Not a particularly complex whisky, rather simply structured.
Conclusion: A real surprise. With the alcohol levels, we expected much more spice, but the sherry made this whisky very soft and round.
Hunter Laing First Edition 14y 50,2%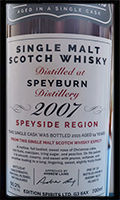 Nose: A cream sherry and solid, wet wood that seems really soaked in sherry.
Mouth: A lot of sherry and slightly burnt herbs initially cover the tongue and palate. It cannot hide a bitter woodiness. A spicy sharpness spreads and remains present. With water, it shows even more sherry and also becomes much milder.
Conclusion: All in all, a closed dram, but extremely tasty. However, you have to like the combination of woodiness paired with a strong sherry influence.
A.D. Rattray 10y Warehouse Collection 53,5%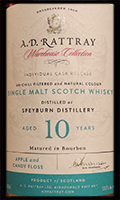 Nose: At first, it shows associations with apple cider vinegar and butter. This is followed by aromas of caramel, toffee and solvent. It already shows here that it has some rough edges.
Mouth: Here it presents itself clean and clear. A hint of pear is immediately displaced by a dominant woodiness. Besides a sharp spiciness, you can also notice pear compote with strong, dark honey. It is also tart.
Conclusion: A whisky to work out, many rough edges. If you want to discover this one, you have to take your time.
more notes
here