our tasting notes
here are our impressions...
the tasting notes from the 56th Speyburn Tasting
Inver House 40% green bottle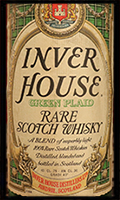 Nose: Uhu-Glue, a shed that hasn't been open for a long time, dried herbs, dusty, grain and a hint of apricot
Mouth: slightly tangy, dry, herbs, yellow plum, little depth. The initial sweetness is unfortunately quickly gone. A woody impression remains.
Conclusion: Not bad, but not really good either. Still a good opener for a tasting
Original bottling 10 years, 40%, 1995-2005 Silver Medal
A bottling still with the old label, on which the still can be seen slightly brownish. The Tube is adorned with a glued-on silver medal
Nose: everyone's beloved Speyburn pear is there - if not overly present. A touch of menthol, freshly cut wood. Tart scent like apple cider vinegar and also the metallic and sweet scent of a freshly opened canned fruit
Mouth: A thin texture and the first taste on the palate quickly dissipates. A light, peppery spiciness follows, astringent, followed by the taste of pear and light fruit.
Conclusion: Altogether ok, but this bottling does not come close to the old 10s from Speyburn.
Hunter Laing OMC 14 years 58% 64bottles. for Southport Whiskyckub
Having one of those 64 bottles is something special.
Nose: Glue, polish, sticky sweet sherry. This malt bites a little! Then marzipan, pickled raisins, chocolate with a very high cocoa content, lovage. This malt is extremely closed and takes a lot of time in the glass and in the air
Mouth: Sherry-soaked oak, yet bone-dry. Burnt cake crust. 90% dark chocolate. Salty, that's surprising. In addition "paradise apple" from the fair - but here less the apple, more the glaze. Oily. Liquorice and chamomile in the back
Conclusion:A very fat malt, extremely closed and not - or only with difficulty - crackable with water. Still changeable and somehow "dirty" on the palate - and the 58% quickly show their big arms and work where they should.
mehr notes
hier