our tasting notes from the 58TH Speyburn Tasting
here are our impressions...
G&M 1971-19y, the Dram Takers-Book Of Kells, 40%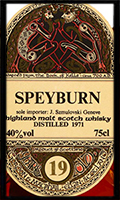 Nose: Starting with cherries and herbs, old paper and some bacon join in. A hint of Sanostol is also noticeable. It is also slightly musty in the direction of garden soil. It gets sweeter with time. Although only 40% alcohol is involved here, a little water does it good.
Mouth:A sweet-spicy attack with herbs, oak and pepper. All in all, a very compact dram that wants to be conquered slowly. Despite the 40%, it has a good punch, and a little water does it quite good here, too. A little OBF joins in and a nice sweetness stays at the end.
Conclusion: Old, tasty one. It's got a lot of power despite the 40%.
G&M 1977 Private Collection 44y, 59,2%%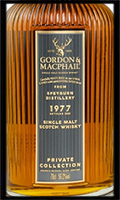 Nose: Starts very elegantly, round and fruity. Dried fruit, caramel, tobacco and a little menthol join in, as well as something sourly fizzy, tropical fruits like pineapple and a little wax. A very special dram that you may spend a long time on. With time, cocoa comes in and it becomes more and more chocolaty.
Mouth: A very rich and powerful attack with a good load of OBF. Pepper, burnt caramel, sour cherry and tangerine. White chocolate with chilli and some coconut round off this noble dram.
Conclusion: One bows in awe before this 44-year-old Speyburn. It is as good as hoped for.
mehr notes
hier