our tasting notes from the 60TH Speyburn Tasting
here are our impressions...
Originalbottling (2007) 10 y 40%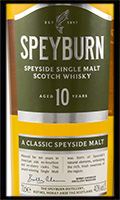 Nose:This 10-year-old was bottled in 2007 and in this tasting we had the opportunity to try a bottle of it. Right at the beginning, we are greeted by aromas of OBF, herbs and the typical pear. This is followed by cream caramel with vanilla ice cream and a crème brûlée. If you give it a little time, pear-Helene and herbal sweets show up and very delicately some cherry. Here it also seems a little dusty.
Mouth:On the palate it is very dry and shows light pepper and old cardboard. Oily and reminiscent of sweet-spicy forest honey, this dram rolls over the tongue. As it progresses, leaves and very light smoke appear. Towards the end, some fresh mint and salt. With a little water, the sweetness increases and the dram culminates in black tea with cream and menthol.
Conclusion:It's great
Master of Malt 10y 49,5%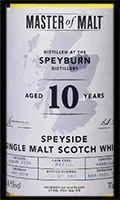 Nose: The overripe pear is very dominant. It is followed by creamy sweets, buttermilk and acidity. With time, this dram seems rancidly alcoholic and buttery. After a few minutes, some lovage, warm lemon, natural gas, pineapple and coconut show up. Promising nose and is very interesting.
Mouth: Again a very dry start with a not-too-small pinch of pepper. Alcoholic and unripe is what remains at the end. With water, it is even sweeter, even more, unripe and also salty. The whisky tingles like champagne on the tongue and releases a hint of vanilla. The finish is caraway and the question "Who tasted this before bottling?" comes up.
Conclusion: But the label is beautiful.
Hart Brothers 10y 57,3%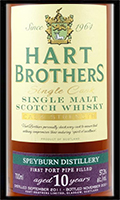 Nose: Alongside spicy oak, this whisky is also perfumed. Spicy oak and old leather form the frame for the sweet and sour lovage with nutmeg. With time, fresh menthol develops as well as EM-Eucal cherry sweets with a dash of lime.
Mouth: A peppery plum kicks things off and is followed by dry wood. Salt mixed with cinnamon contributes to the positive memory of the whisky. With water, the pepper is reduced and more menthol and spice appear. In the finish, creamy sweetness with chestnut.
Conclusion: Interesting in the most positive sense.
mehr notes
hier