our tasting notes from the 61TH Speyburn Tasting
here are our impressions...
Whisky Taste 5y Ultraman 55th Anniversary 46%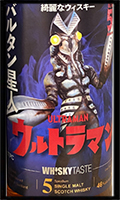 Nose:Right at the beginning, we have a nice portion of wax, which comes along with a slightly acidic vinegar note. Immediately afterwards, sulphur makes itself known and we assume that it is PX sherry that we notice very clearly here. A hint of pear and star anise with a little leather. A very delicate hint of smoke.
Mouth: A very present sweetness in the first sip. Already at the first rinse the whisky seems dry and waxy. Slight pepper spice, nice sherry notes, cherry. Despite the "only" 46%, water is needed here. Then the smoky note becomes more pronounced and mint comes out. It becomes oily and extremely drinkable. However, the cask aromas are missing and the finish is only short.
Conclusion: This is especially ULTRA. Man!
SMWS 88.25, 12y, 54,1% Metamorphosis of a Salmon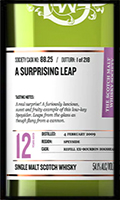 Nose: In front of us is a gooseberry meringue pie. This is a sensational nose. Beautifully sour and fruity. On top of that, there is vanilla, the typical Speyburn pear, cider apple scent as well as toffee, nutmeg and the scent of a damp woodcut.
Mouth: The second whisky of the evening also shows us its sweetness, which is dominated by vanilla. A classic SMWS punch is not missing here, of course. Much sweeter with water, the pepperiness remains, as do the gooseberries.
Conclusion: Vanilla terror!
Douglas Laing Old Particular 14y 54% bottled for "de Straffe Hoek" Belgium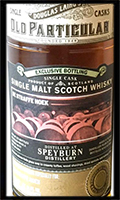 Nose: First we have old cardboard, a few oranges and discreet tobacco notes. Surprisingly, we find OBF. Some chocolate rounds off the nose.
Mouth: Dry sherry makes the start. The alcohol content stings on the nose. On the palate, this whisky shows sweetness, it brings enough pepper as a spice, dried fruit and wood. It seems a little dull in the mouth.
Conclusion: Delicious and round in taste, faultless whisky.
mehr notes
hier